3 min ago
UN says more than 900 civilians killed in Ukraine — but actual figures likely to be "considerably higher"
As of Monday, 925 civilians have been killed in Ukraine since the Russian invasion began, according to an update from the UN Human Rights office (OHCHR).
Among the dead are 11 girls, 25 boys and 39 more children whose gender is not known, the OHCHR said.
According to the agency, at least 1,496 civilians have been injured.
"Most of the civilian casualties recorded were caused by the use of explosive weapons with a wide impact area, including shelling from heavy artillery and multiple-launch rocket systems, and missile and air strikes," the OHCHR said.
The office warned that the actual figures are likely to be "considerably higher" especially in recent days "as the receipt of information from some locations where intense hostilities have been going on has been delayed and many reports are still pending corroboration."
46 min ago
Damaged buildings and Irpin River flooding seen in new satellite images
From CNN's Paul P. Murphy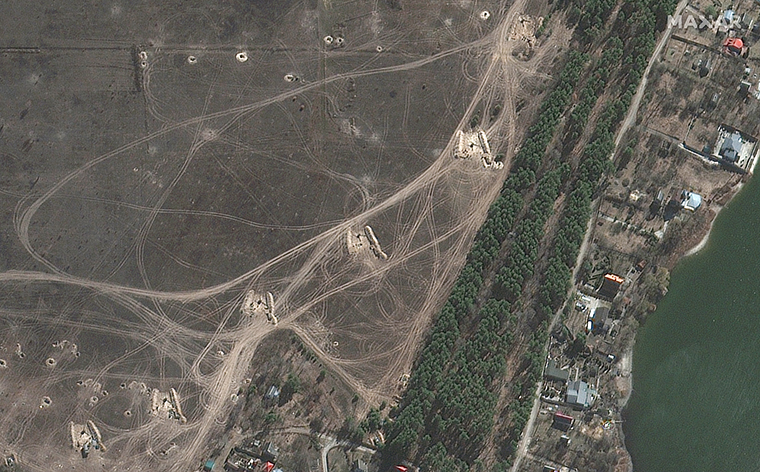 New satellite images from Maxar Technologies show fires from military strikes and growing flooding from the Irpin River.
The images, taken on Monday, also show Russian artillery positions west of the Russian-held Antonov Air Base northwest of the capital, Kyiv. Those positions match similar scenes at other Russian artillery positions — earthen berms have been constructed around them. 
Damage from Russian military strikes are also seen across Irpin, northwest of Kyiv, in the satellite images. Two distinct fires are seen in central Irpin near a complex of city government and apartment buildings. 
Two other fires can also be seen in another satellite image among a group of buildings near a school in the city and a residential area near a lake. 
An additional satellite image shows growing floodwaters from the Irpin River. 
CNN previously reported that a dam along the Dnieper River was flooding the Irpin River basin and its tributaries. The Irpin River is critical to the Russian advance toward Kyiv; if the Russians cannot cross it, they can't take Kyiv from the west.
It's unclear how the dam began flooding the Irpin River basin: whether the gates were opened on purpose by the Ukrainians to flood the area, or it was hit by a military strike. 
1 hr 9 min ago
"Emptiness instead of heart": Zelensky calls Russian military pilots unhuman 
From CNN staff
In a video uploaded to Telegram early Tuesday, Ukrainian President Volodymyr Zelensky called Russian military pilots unhuman saying, "They definitely have emptiness instead of heart. Instead of soul. Instead of everything that makes human, human." 
Without offering evidence, Zelensky also claimed Russian troops hit the Zhytomyr region with rockets Tuesday and that a Russian aircraft was shot down in the Kharkiv region near Chuhuiv.
"Our military has already shot down so many Russian planes and helicopters that one can only wonder what do their pilots have instead of mind? Is it also emptiness?" he said.
Zelensky also said, in Kherson, "the occupiers shot at people who peacefully took to the streets without weapons at a rally for their freedom. For our freedom.
"The Russian soldiers do not even know what it is like to be free. They were driven here, to be honest, as if sentenced. Sentenced to death, sentenced to disgrace."
Zelensky added that civilians also came under fire in the Zaporizhzhia region. "Four children were hospitalized. Two are in grave condition," he said. 
The President thanked everyone who worked to help evacuation corridors, saying more than 8,000 people were rescued Monday. "Thank you to everyone who did it, who worked for the people. We also managed to deliver 200 tons of humanitarian aid," he said.
1 hr 49 min ago
Zelensky says he spoke with French president and Netherlands prime minister to coordinate summit in Europe
From CNN staff
In a video uploaded to Telegram early Tuesday morning local time, Ukrainian President Volodymyr Zelensky said he spoke with the prime minister of the Netherlands and the French president to coordinate upcoming important summits in Europe. 
Zelensky said, "I spoke today with Prime Minister of the Netherlands Rutte and President of France Emanuel Macron. We are coordinating our positions on the eve of important summits in Europe. Meetings of the G7, leaders of NATO, and the European Union will take place on March 24. Our position will definitely sound. It will sound, believe me, firmly."
1 hr 51 min ago
Russian artillery positions, tanks and vehicles seen in new satellite images from Mariupol
From CNN's Paul P. Murphy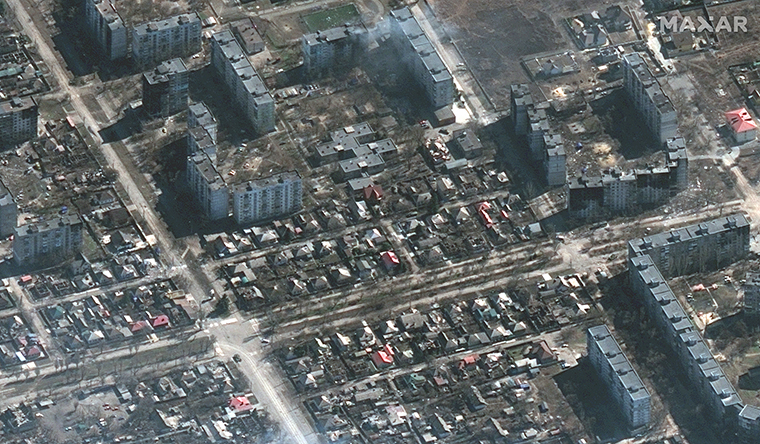 Russian military vehicles, including artillery positions, in Mariupol are seen in new satellite images from Maxar Technologies. The images were taken on March 19.
One of the images shows Russian military vehicles and tanks on the streets of the "left bank" neighborhood in Mariupol — the day Russian-backed separatists took control of government buildings.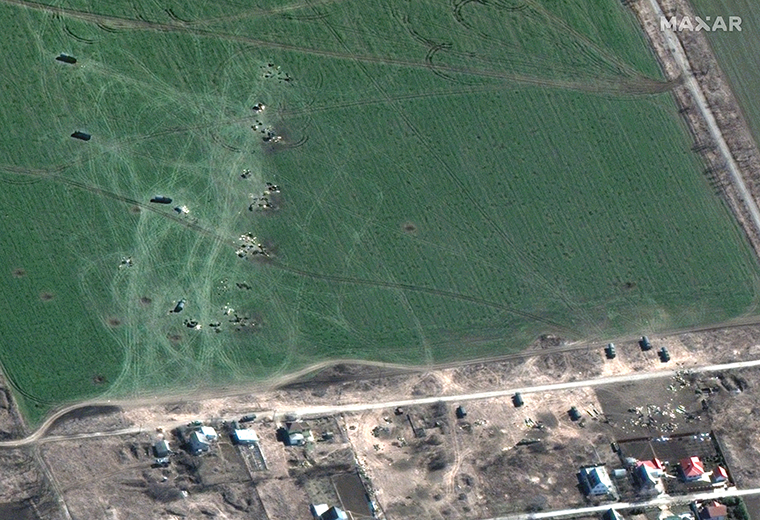 Additional imagery shows Russian military artillery positions northeast of Mariupol and smoke rising from burning apartment buildings.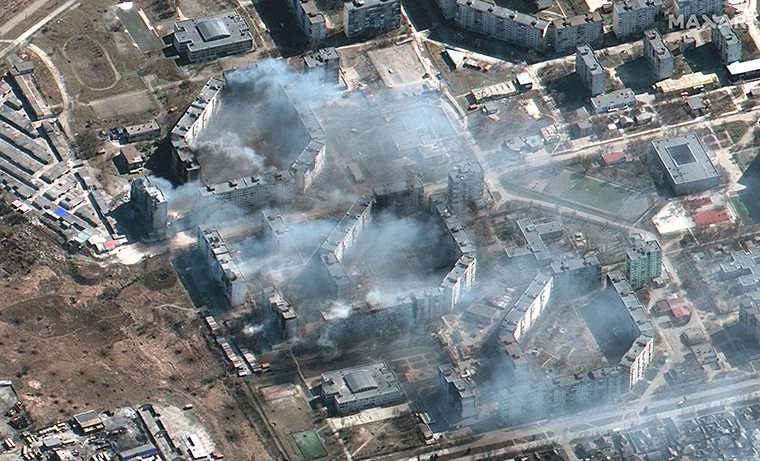 2 hr 15 min ago
Russian tabloid posts — then removes — report on Defense Ministry's count of Russian soldier deaths in Ukraine
From CNN's Paul P. Murphy, Vasco Cotovio and Nathan Hodge
The Russian tabloid Komsomolskaya Pravda published, then later removed, a report that the Russian Ministry of Defense had recorded 9,861 Russian Armed forces deaths in the war in Ukraine.
The report from the tabloid originally read, "According to the Russian Defense Ministry, during the special operation in Ukraine, the Russian Armed Forces lost 9861 people killed and 16153 wounded."
CNN analyzed the HTML code in the website which indicates that the article was published on Monday at 12:09 a.m. Moscow time.
Seconds after CNN read the original article — at 9:56 p.m. Moscow time according to the HTML code — the story was updated and removed all references to the death count. That update on the outlet's website came shortly after the article began to get attention from social media posts, which referenced the death count. 
Some background: Since March 2, Russia has not reported a military death count. The original report from the tabloid is in line with US Department of Defense estimates, which say that there have been up to 10,000 Russian military deaths.
After the update, Komsomolskaya Pravda later published a statement saying that "access to administrator interface was hacked" and that "a fake insert was made into a publication." 
They claimed that "inaccurate information was immediately removed." CNN analysis showed that the update came after 21 hours.
2 hr 37 min ago
Biden confirms Russia's use of hypersonic missiles in Ukraine
From CNN's DJ Judd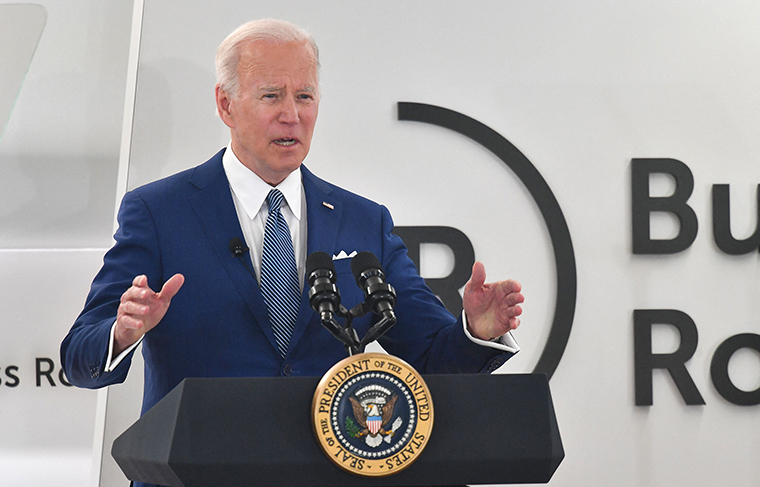 US President Joe Biden confirmed Monday that Russia has employed hypersonic missiles in its invasion of neighboring Ukraine.
"And if you'll notice, [Russia has] just launched the hypersonic missile, because it's the only thing that they can get through without absolute certainty," Biden said. "It's, as you all know, it's a consequential weapon, and, but with the same warhead on it as any other launch missile, it doesn't make that much difference, except it's almost impossible to stop it. There's a reason they're using it." 
Biden, speaking to a group gathered at the Business Roundtable CEO Quarterly Meeting, said, "[Russian President Vladimir] Putin's back against the wall, he wasn't anticipating the extent or strength of our unity, and the more his back is against the wall, the greater severity of the tactics he may employ."
Biden outlined a series of resources the US has deployed to Ukraine and NATO allies in the region, detailing $2 billion in funding to NATO alone and significant military resources to Ukraine, which he said are "wreaking havoc on the Russian military, whether it's their tanks or their helicopters or their aircraft." 
"The idea that they don't have enough sophisticated equipment is just simply not accurate, and I'm not going to take the time to go into all the detail here, but the point is, they have every equipment, every piece of equipment that makes rational sense based on our military and NATO's military to be able to do what they're doing," Biden told the CEOs.
The President repeated warnings that Russia was likely to conduct "false flag operations," including the possibility of a chemical weapons attack in Ukraine.
"Whenever he starts talking about something he thinks NATO, Ukraine or the United States is about to do, it means he's getting ready to do it. Not a joke," Biden said.
3 hr 33 min ago
Zelensky: Mariupol is being "reduced to ashes," but the city will "survive"
From CNN's Olena Mankovska and Sugam Pokharel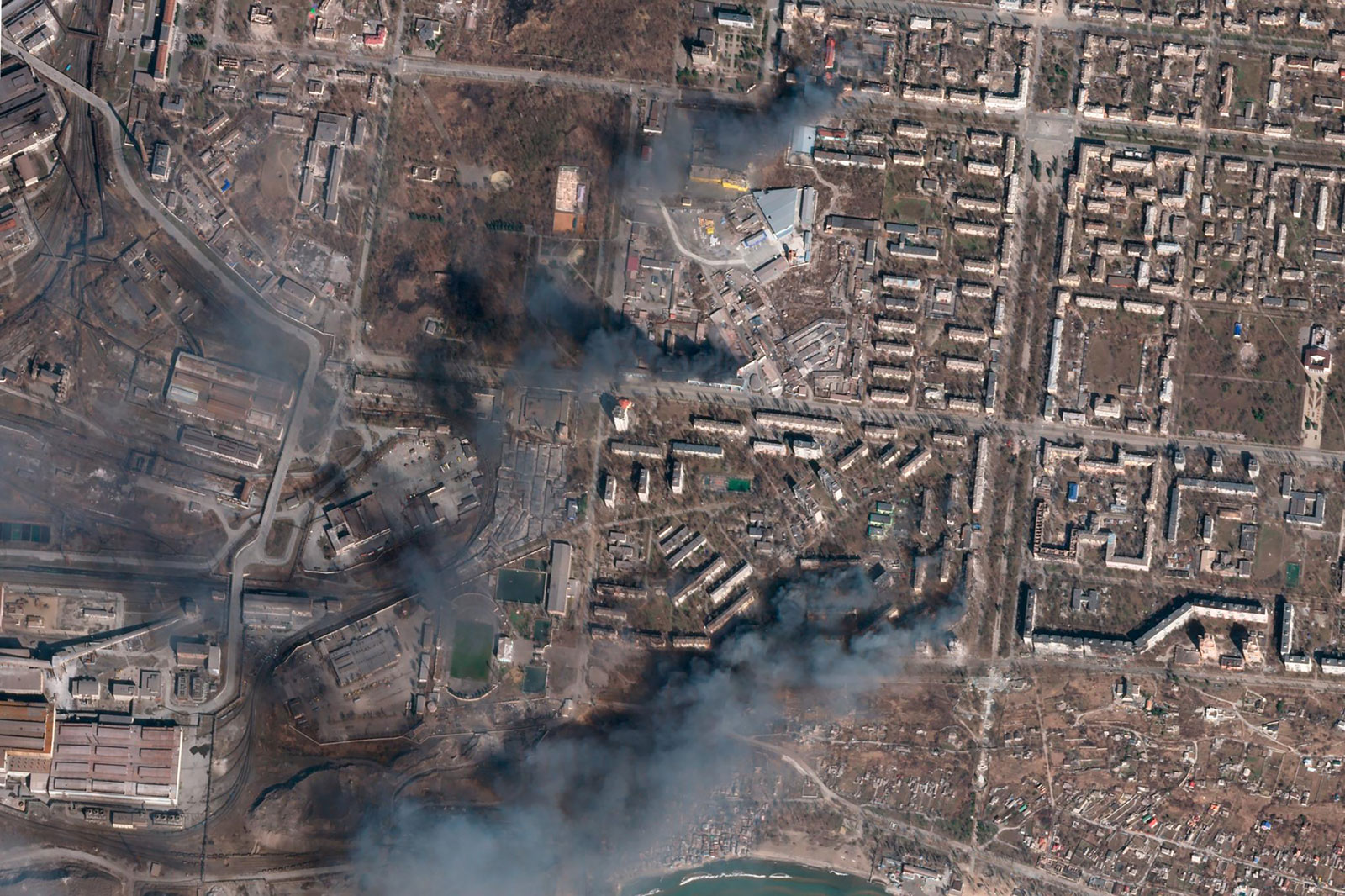 Ukraine's President Volodymyr Zelensky said in a video address released Monday that the Ukrainian port city of Mariupol is being "reduced to ashes" by Russia's military aggression, but added that the city will "survive."   
Mariupol, which before the war was home to around 450,000 people, has been under near constant attack from Russian forces since early March with satellite images showing significant destruction to residential areas. 
European Union foreign policy chief Josep Borrell said on Monday that "what's happening Mariupol is a massive war crime."
Zelensky in his address went on to again urge the Ukrainians to "do everything you can to defend our country, to save our people." 
Since the Russian invasion of Ukraine started in late February, "we are seeing more and more [Ukrainian] heroes. Once ordinary Ukrainians, and now true fighters," he said. 
The Ukrainian leader also said that the ordinary citizens in Ukraine are "rising" to the point that Russia "doesn't believe that this is the reality," and added, "we will make Russia believe."  
"Fight, keep on fighting, and help," he urged the Ukrainians.  
3 hr 28 min ago
Bipartisan senators call for more aid for Ukraine after trip to Germany and Poland
From CNN's Ellie Kaufman 
A group of bipartisan senators called for more lethal and humanitarian aid to be sent to Ukraine as soon as possible after traveling to Germany and Poland over the weekend to meet with civil society organizations, American troops and Ukrainian refugees. The senators who went on the trip held a press conference Monday after returning. 
The group of senators that traveled to Germany and Poland included Sens. Jacky Rosen, Joni Ernst, Shelley Moore Capito, Susan Collins, John Cornyn, Steve Daines, Kirsten Gillibrand, Angus King, Roger Marshall and Jerry Moran. 
"Defending freedom in Ukraine is defending freedom everywhere. This is a critical time for all of us, not just the Ukrainian people that we encountered and visited, but certainly for all of Europe, all of our NATO allies, and it certainly means the freedom right here in our homeland as well," Ernst said during the press conference about the trip.
Many of the senators described emotional experiences after meeting with Ukrainian refugees who had just fled the war-torn country. Collins recounted a conversation she had with a young Ukrainian mother who had just fled the country with her two children.
"She said this to me: 'I want to live in peace. I want to be back in Ukraine, but I have to keep my children safe.' So this young mother with her two children was leaving the only country she has ever known. Leaving her husband behind. Not knowing if she would ever see him again in order to keep her children safe," Collins said. "The only way that we can end this humanitarian crisis is to provide the Ukrainians with the lethal aid and the humanitarian support they need to end this unprovoked, unjustified war."
Collins called for the Biden administration to allow Ukrainian refugees with family in the US to be allowed to come to the US.
"I believe that the administration should look at means to allow Ukrainians who have family members in this country to join them and give them temporary protective status. Just this morning, I heard from someone from the state of Maine who offered to take three Ukrainian families in for the next year, so we need that kind of reform as well," Collins said.
Sen. King said he wants to better understand how long it takes to get aid to Ukraine after it's approved in Congress after the trip. 
"One of the things that I'm coming back with is wanting to determine just how long does it take, from the time Congress votes the money, as we did ten days ago, to when it crosses the border into Ukraine both for humanitarian aid and for lethal aid. We need to know exactly how that works, and how fast it occurs, because we don't have weeks and months, we have hours and days," King said.
Sen. King said the senators saw trucks loaded with aid ready to cross the border into Ukraine during the trip.
Sen. Ernst said she, as well as other senators were writing lists of what needs to get done to get aid to Ukraine even faster on the flight back from Germany. 
The senators spent Friday in Germany, Saturday in Poland and Sunday in Germany before flying back to the US overnight Sunday night to Monday, King said.