6 hr 14 min ago
It's 10 p.m. in Ukraine. Here are the latest developments
As Saturday nears its end in Ukraine, this is what you need to know about Russia's invasion:
Status of attacks in key cities: Rescue efforts are taking place in the southern city of Mykolaiv on Saturday morning at the scene of a missile strike on barracks housing soldiers, regional official Vitalli Kim said. Dozens of troops are reported to have been killed in the attack by Russian forces, according to journalists from CNN Swedish affiliate Expressen who were at the scene.
The besieged city of Mariupol is under almost constant bombardment, according to a major in Ukraine's army, and residents are rationing food and water as bodies are left in the streets. There are also conflicting reports over the status of one of Ukraine's key industrial facilities, the Azov steel plant, in Mariupol. New satellite imagery shows the destruction of the city's bombed theater, with the word "children" clearly visible on the outside of the building.
US Secretary of Defense Lloyd Austin said that Russia continues to make "incremental gains" in Ukraine's south and has used "brutal, savage techniques" in the way it has targeted civilians.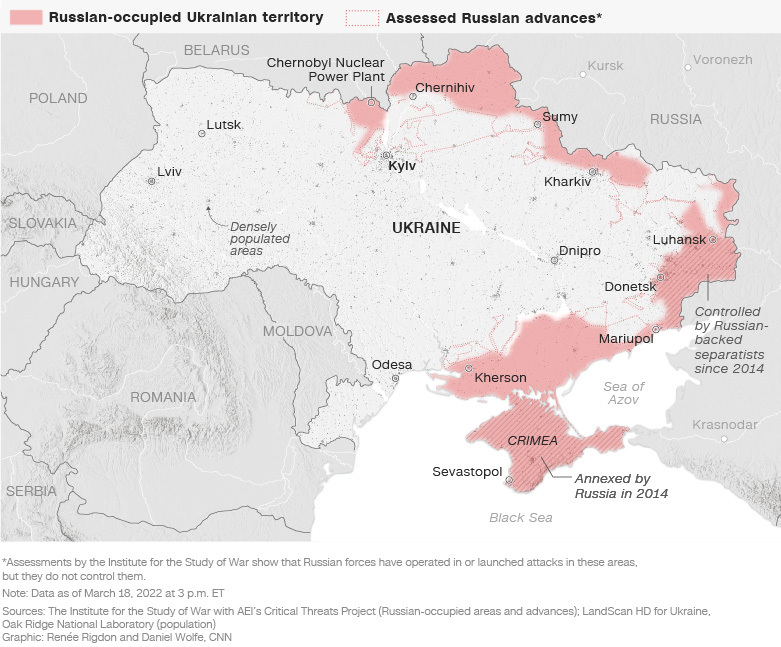 Staggering numbers of refugees: Approximately 1.5 million children have fled Ukraine since Russia's invasion began and are at risk of being trafficked, according to UNICEF, while "countless others" are displaced inside the country.
The mayor of the western Ukrainian city of Lviv told CNN that about 200,000 refugees from around the country are in his city right now.
US says Russia has used hypersonic missiles: US officials confirmed to CNN that Russia launched hypersonic missiles against Ukraine last week, the first known use of such missiles in combat.
Russia's Ministry of Defense said Saturday powerful hypersonic "Kinzhal" missile destroyed a military ammunitions warehouse in western Ukraine on Friday.
Deaths climb: As of Friday, at least 847 civilians — including 64 children — have been killed in Ukraine since the Russian invasion began on Feb. 24, according to the latest update from the United Nations, but the actual toll is believed to be much higher.
Biden to Europe next week: US President Joe Biden is set to go to a NATO summit in Brussels on March 24 and will also join a European Council meeting, according to the White House. Former Ukrainian President Petro Poroshenko today called on Biden to visit Ukraine while in Europe.
6 hr 24 min ago
Ukraine's foreign ministry claims more than 14,000 Russian personnel killed as of Saturday
From CNN's Chandler Thornton
The Ukrainian Ministry of Foreign Affairs said nearly 14,400 Russian personnel have been killed in Ukraine as of Saturday, with thousands of pieces of Russian equipment also lost since the Russian invasion into Ukraine.
According to a post from the ministry's official Twitter account Saturday, there have also been 95 Russian aircraft, 115 helicopters, 1,470 armored vehicles, 213 artillery pieces, and several other pieces of equipment items lost from the Russian Armed Forces since the invasion.
CNN is unable to verify these claims. 
Information from Russia is rarely forthcoming, and officials rarely report on its losses. 
The most recent figure seems to have been released on March 2, when Russia said 498 of its service members had died since the start of the campaign.
US estimates of Russian casualties range from between 3,000 to 10,000, according to information from US and NATO officials speaking to CNN. 
7 hr 22 min ago
Former Ukrainian president says Biden should come to Ukraine while in Europe next week
Former Ukrainian President Petro Poroshenko said US President Joe Biden should visit Ukraine while in Europe at a NATO summit in Brussels next week.
"Why don't — very good friend of mine, very good friend of Ukraine, Joe Biden, the leader of the global world, who demonstrate now the leadership — why don't he come visit here next week as a symbol of our solidarity?" Poroshenko, wearing a military vest and flanked by soldiers in Kyiv, said to CNN's Jim Acosta.
The President will travel to Brussels, Belgium, to participate in a NATO summit on March 24 and will also join a European Council meeting, according to the White House.
"That would be extremely right step for demonstration, the whole world is together with us against Russia," Poroshenko added. 
The President will travel to Brussels, Belgium, to participate in a NATO summit on March 24 and will also join a European Council meeting, according to the White House.
Biden will "discuss ongoing deterrence and defense efforts," during the NATO summit and reaffirm the US' commitment to its NATO allies, according to White House press secretary Jen Psaki said on Tuesday.
"He will also join a scheduled European Council summit to discuss our shared concerns about Ukraine, including trans-Atlantic efforts to impose economic costs on Russia, provide humanitarian support to those affected by the violence and address other challenges related to the conflict," she said.
Poroshenko also said Russian President Vladimir Putin is a "crazy maniac" and said Ukrainians have "bulletproof unity."
Poroshenko called for increased sanctions against Russia. "We need to give additional steps to increase the sanctions and to increase the supply of weapons to Ukraine to make Putin [go back] to Russia," he added. 
"We're not only fighting for Ukrainian soil. We're fighting for European security, freedom, and democracy and for global security. And for you also, for the United States," Poroshenko said. "My request is please, help us to save the world. Help us to save Europe. Help us to save you."
7 hr 24 min ago
Russian cosmonauts arrived at the International Space Station in yellow and blue, sparking speculation
From CNN's Ross Levitt and Kristin Fisher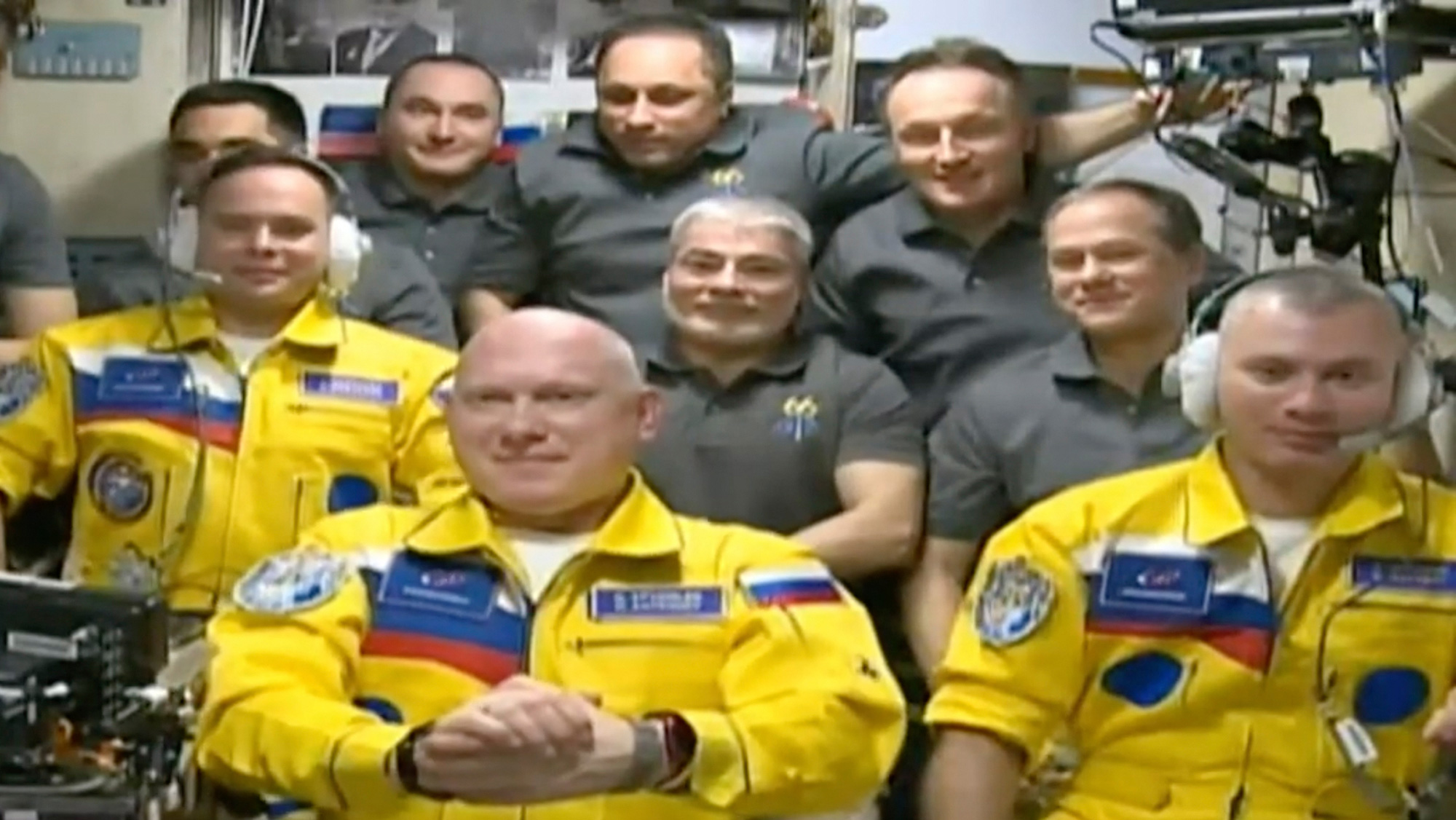 A trio of Russian cosmonauts arrived at the International Space Station Friday wearing bright yellow flight suits trimmed with blue, raising questions about whether the three were showing solidarity with Ukraine by wearing its national colors and rebuking their own government's invasion. 
While it is possible that the suits are a sign of solidarity with Ukraine, there are also other possible explanations.
The head of Roscosmos, the Russian space agency, posted pictures of media coverage speculating the cosmonauts were supporting Ukraine, and said, "Here some bandit cowards and their Anglo-Saxon sponsors don't know what else to come up with in their information war against Russia." He added that the crew were not representing Ukraine but wearing colors from their alma mater: Bauman Moscow State Technical University. 
"Sometimes the color yellow is just the color yellow. The flight suits of the new crew were designed to match the colors of the emblem of Bauman Moscow State Technical University, from where all three cosmonauts graduated. The design of the uniforms was coordinated long before the current events. Seeing the Ukrainian flag everywhere and in everything is just a clinic [in propaganda]," another Roscosmos official wrote in his Telegram channel "Closed Space."
Cosmonauts typically pick their flight suits months in advance, which would pre-date Russia's invasion of Ukraine, but it's unclear when the cosmonauts for this selected a yellow-and-blue color scheme. 
"For Soyuz flights, typically the crew meets with the company that makes the suits months before flight and they are allowed two custom suits," a NASA astronaut who has flown on a Russian Soyuz spacecraft to the ISS told CNN. "Typically, one suit is the same across the crew and the second suit is something personal." 
"I think it would be a real challenge to make and launch these (flight suits) last minute. Not impossible though," the astronaut added. 
When the three cosmonauts arrived at the space station Friday, they spoke to callers on the phone, one of whom asked about the yellow color, Commander Oleg Artemyev, responded jokingly, "We actually had a lot of yellow material, so we had to use it. So that's why we had to wear yellow."  
Artemyev and fellow cosmonauts Denis Matveev and Sergey Korsakov will spend the next six-and-a-half months aboard the space station. 
8 hr 15 min ago
Pope Francis visits Ukrainian refugee children in Rome hospital
From CNN's Nicola Ruotolo in Rome and Amy Cassidy in London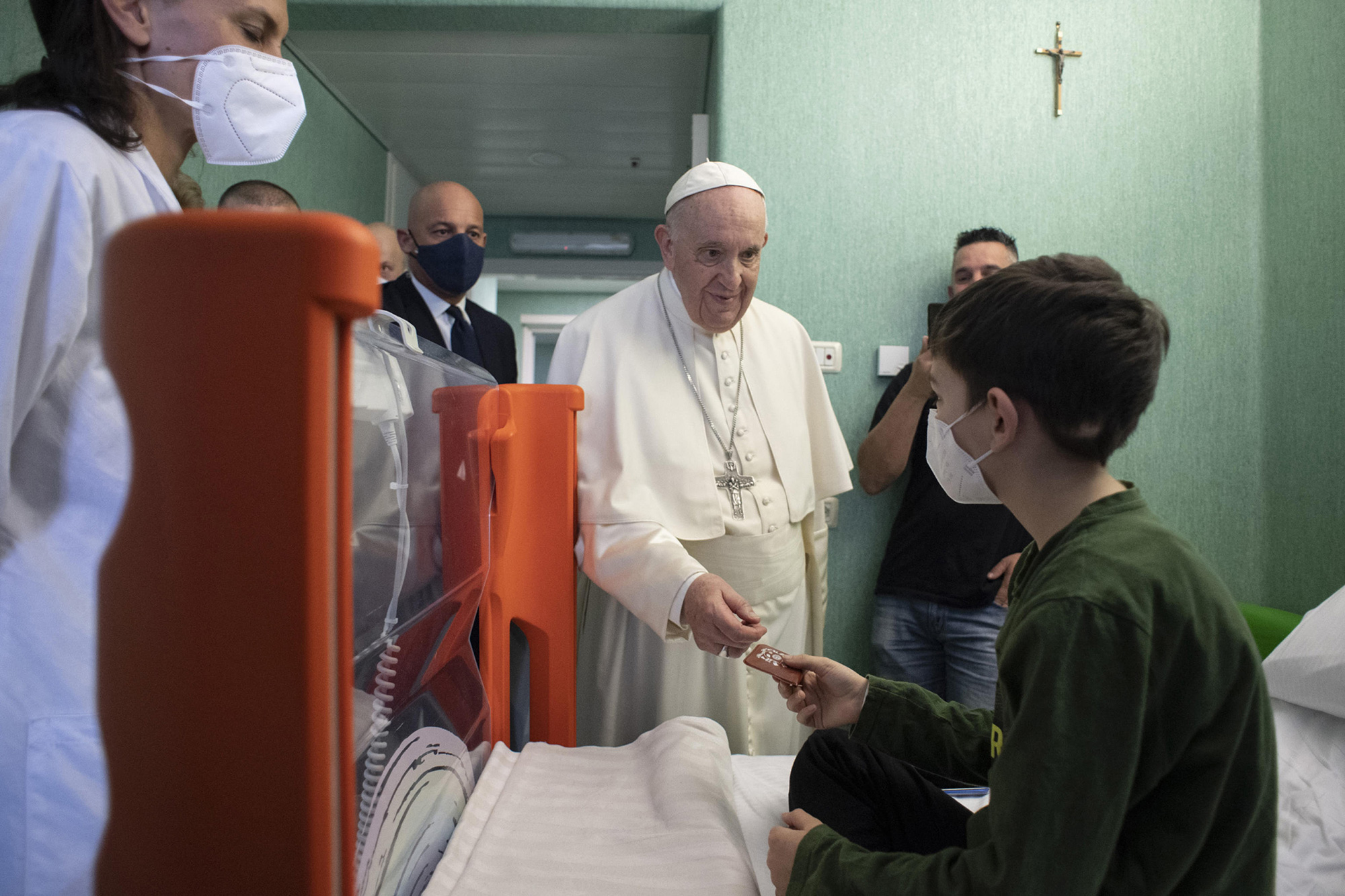 Pope Francis visited 19 Ukrainian refugee children at the Bambino Gesù Children's Hospital in Rome on Saturday afternoon.
The young patients fled Ukraine during the first few days of the war, which started on Feb. 24 when Russia invaded Ukraine, and are receiving treatment for oncological and neurological diseases among others, as well as severe injuries from blasts, Vatican Press Director Matteo Bruni said in a statement.
"The Pope stopped in the rooms and visited all the little ones present, before returning to the Vatican," it read.
According to the Vatican, 50 Ukrainian refugee children have passed through the hospital since the conflict began.
8 hr 32 min ago
Italy offers to help rebuild Mariupol theater
From CNN's Mariya Knight and Maija Ehlinger in Atlanta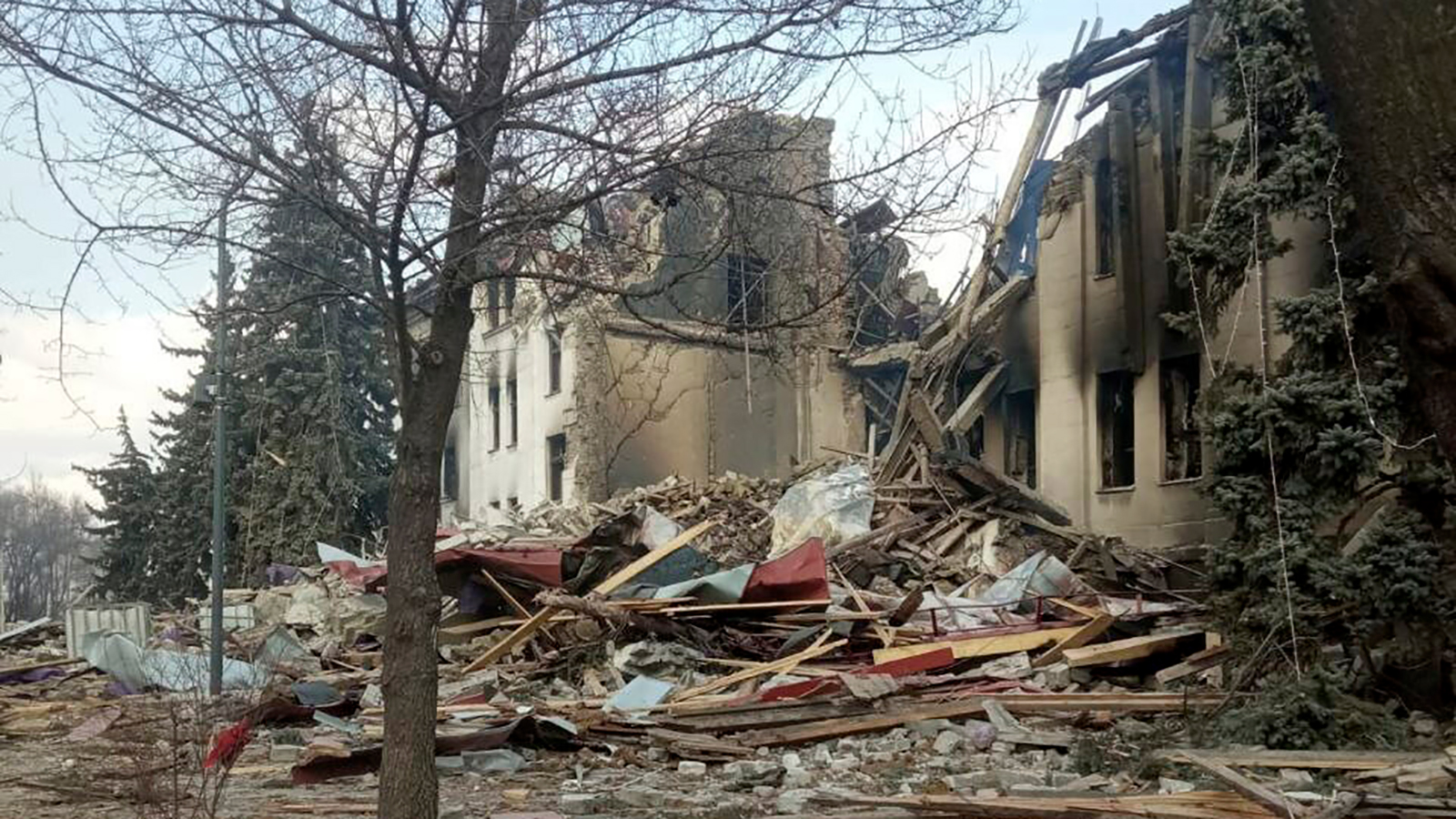 Italy has offered to help rebuild Mariupol's damaged theater during a call on Friday, according to Ukraine's minister of culture.
Italian Minister of Culture Dario Franceschini wrote on Twitter following his video call with Ukrainian Minister of Culture Oleksandr Tkachenko that the Italian Council of Ministers approved a proposal to provide Ukraine the resources to rebuild the theater on Wednesday.
"Theaters of all countries belong to the whole humanity," Franceschini added. 
Hundreds of Ukrainians, including many children, were taking shelter inside the theater when it was bombed on Wednesday.
"Minister Franceschini assured that Italy has full solidarity with Ukraine. He expressed support for our state and offered cooperation with our creative teams during the war," Tkachenko wrote on Telegram after the call. "Together, our Ministries in Ukraine and Italy will rebuild the Mariupol Drama Theater immediately after Ukraine's victory over the Russian occupiers." 
Ukraine's President Volodymyr Zelensky thanked Franceschini on Twitter Wednesday, saying that Italy "set a good example to follow. Together we will rebuild the country to the last brick." 
While the Mariupol Drama Theater is not an official UNESCO World Heritage site, Tkachenko wrote on his official Facebook page that the UNESCO Committee for the Protection of Cultural Heritage is providing "immediate support to Ukraine" and "expressed readiness to grant the status of enhanced protection of the main cultural heritage sites in accordance with the norms of the Haas Convention of 1954 and its protocols." 
This comes as more international cultural institutions have cut ties with Russia as a sign of solidarity with Ukraine.
During a Saturday telethon in Ukraine, Tkachenko said that "more than 70 organizations have abandoned cultural cooperation with Russia," including the Cannes Film Festival, the La Scala Theater and other large art exhibitions.
8 hr 57 min ago
New satellite image shows massive damage to Mariupol theater after bombing
From CNN's Andrew Carey in Lviv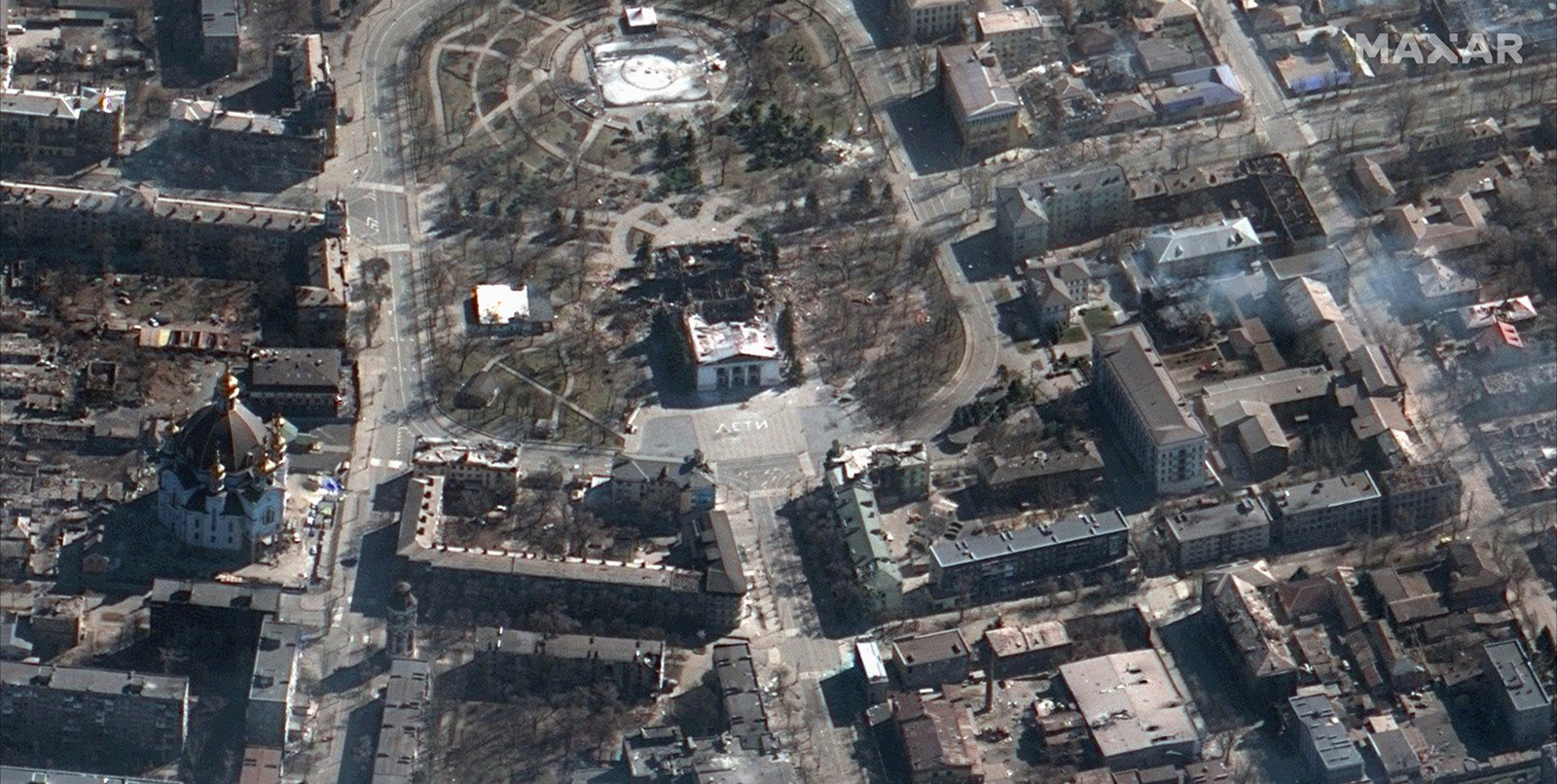 A new satellite image shows the state of the destruction of a theater in Mariupol when it was bombed three days ago.
An image taken Saturday by the Maxar Technologies satellite imagery provider shows about two-thirds of the building completely destroyed, with just the western façade still standing.
Still clearly visible in the photo is the Russian word for "children" painted in large letters on the ground in front of the entrance.
The theater was being used as a shelter as well as the city's main humanitarian assembly, according to authorities. Estimates of the number of people inside at the time of the attack range from 800 to 1,300.
Early reports the morning after the strike suggested the building's bomb shelter had survived, but reports of efforts to rescue survivors have been difficult to ascertain.
Communications in the besieged city have been sporadic for days, and rescue work has been hampered by the danger of near-continuous shelling, according to reports from inside the city.
Initial reports suggested many survivors had to dig themselves out of the rubble.
Various Ukrainian officials have put the number of survivors at 130, with one person described as having serious injuries.
8 hr 58 min ago
On the ground: Kyiv sees a steady stream of traffic into and out of the city on Saturday
From CNN staff
There is a steady amount of traffic coming out of Kyiv and a long line to get into the city, a CNN team witnessed on Saturday.
Despite an attack on a neighborhood in the Ukrainian capital yesterday, supply lines into Kyiv are still functioning, hence the long lines coming back into the city. 
CNN saw several supply trucks as well as Ukrainian military vehicles drive into the capital on Saturday.
Yesterday, the Armed Forces of Ukraine issued an upbeat assessment of their defense of Kyiv, saying Russia's two main routes for attacking the capital city have been blocked. 
Kyiv residents had also been under curfew for 35 hours covering Tuesday to Thursday morning.
9 hr 15 min ago
Missing reporter among several journalists, activists and officials said to be detained by Russian forces
From CNN's Andrew Carey and Oleksandra Ochman in Lviv
A Ukrainian digital broadcaster said one of its reporters in the southeast of the country has gone missing and is believed to be held by Russian forces.
The broadcaster, Hromadske, said reporter Victoria Roshchina was last heard from on March 12, a day after filing a story from the Russian-occupied town of Enerhodar.
Ukraine's Human Rights Commissioner Liudmyla Denisova said Saturday the government believed she had been kidnapped by Russian forces in the town of Berdiansk, which is on the Black Sea coast and also under Russian occupation.
Hromadske is a small broadcasting station that started in 2013 and is associated with the Maidan protests in Kyiv that began that year.
Roshchina's disappearance comes amid reports of other activists and officials being held against their will in other parts of Russian-occupied Ukraine.
In Kherson region, a senior council official in the town of Nova Kakhovka was abducted three days ago, according to the town's mayor. The wife of Dmytro Vasyliev said on her Facebook page that her husband had been detained because of his negative attitude toward Russia.
Ukrainian officials have said Russia wants to create a Kherson People's Republic in the style of the pro-Russian statelets set up around Donetsk and Luhansk in 2014 and are demanding local councillors promote the move.
More: Elsewhere in Ukraine, Melitopol Mayor Ivan Fedorov was freed from detention by Russian forces as part of a prisoner swap, Ukraine's Center for Strategic Communications and Information Security said in a statement Thursday. Fedorov was taken to Luhansk after his detention and held for five days.
Also, Viktor Tereshchenko, mayor of the Velykoburlutska community in Ukraine's northeastern region of Kharkiv, has been released, according to a video message from Kharkiv Regional State Administration's head Oleh Syniehubov on Friday. On Thursday, Syniehubov said Tereshchenko was "captured" by Russian forces.
And on Sunday, Yevhen Matveyev, the leader of Dniprorudne, a small city north of Melitopol, was abducted by Russian troops, according to Ukraine's Foreign Minister Dmytro Kuleba. CNN could not independently confirm the claim.
According to human rights organization ZMINA, about 17 people have been detained by Russian forces in Ukraine since the start of the war.