3 hr 2 min ago
Ukrainian Foreign Ministry calls "abduction" of Melitopol mayor a "war crime"
From CNN's Paul P. Murphy
The Ukrainian Foreign Ministry published a strongly-worded statement on Facebook, calling the detention of the mayor of Melitopol by armed men a "war crime."
CNN has previously reported that the Melitopol mayor, Ivan Fedorov, was seen on video being led away from a government building in the city by armed men. A short time later, the Russian-backed Luhansk regional prosecutor claimed Fedorov had committed terrorism offenses and was under investigation.
In a statement posted on Facebook, the Ukrainian Foreign Ministry called Fedorov's detention an "abduction," saying it is one of the many "gross violations of norms and principles of international law, including international humanitarian law, war crimes and crimes against humanity, as well as other human rights violations by the Russian military."
The Foreign Ministry said that the Geneva Convention and its Additional Protocols prohibit civilian hostages like Fedorov from being taken.
"We call on the international community to respond immediately to the abduction of Ivan Fedorov and other civilians, and to increase pressure on Russia to end its barbaric war against the Ukrainian people," the statement said. 
"The fact of the abduction of the Mayor of Melitopol, along with hundreds of other facts of war crimes by Russian occupiers on the Ukrainian soil, are being carefully documented by law enforcement agencies. The perpetrators of this and other crimes will be brought to the strictest responsibility," the post concluded.
You can read The Ukrainian Foreign Ministry's Facebook post — including an English translation — below:
3 hr 18 min ago
"No-fly zone" and "cluster bombs": Here are some of the terms you might hear as we cover the Ukraine invasion
From CNN's Rob Picheta
Russia's unprovoked invasion of Ukraine has devastated the country, killing hundreds of civilians, sparking a humanitarian disaster, and resulting in a wave of sanctions from the West.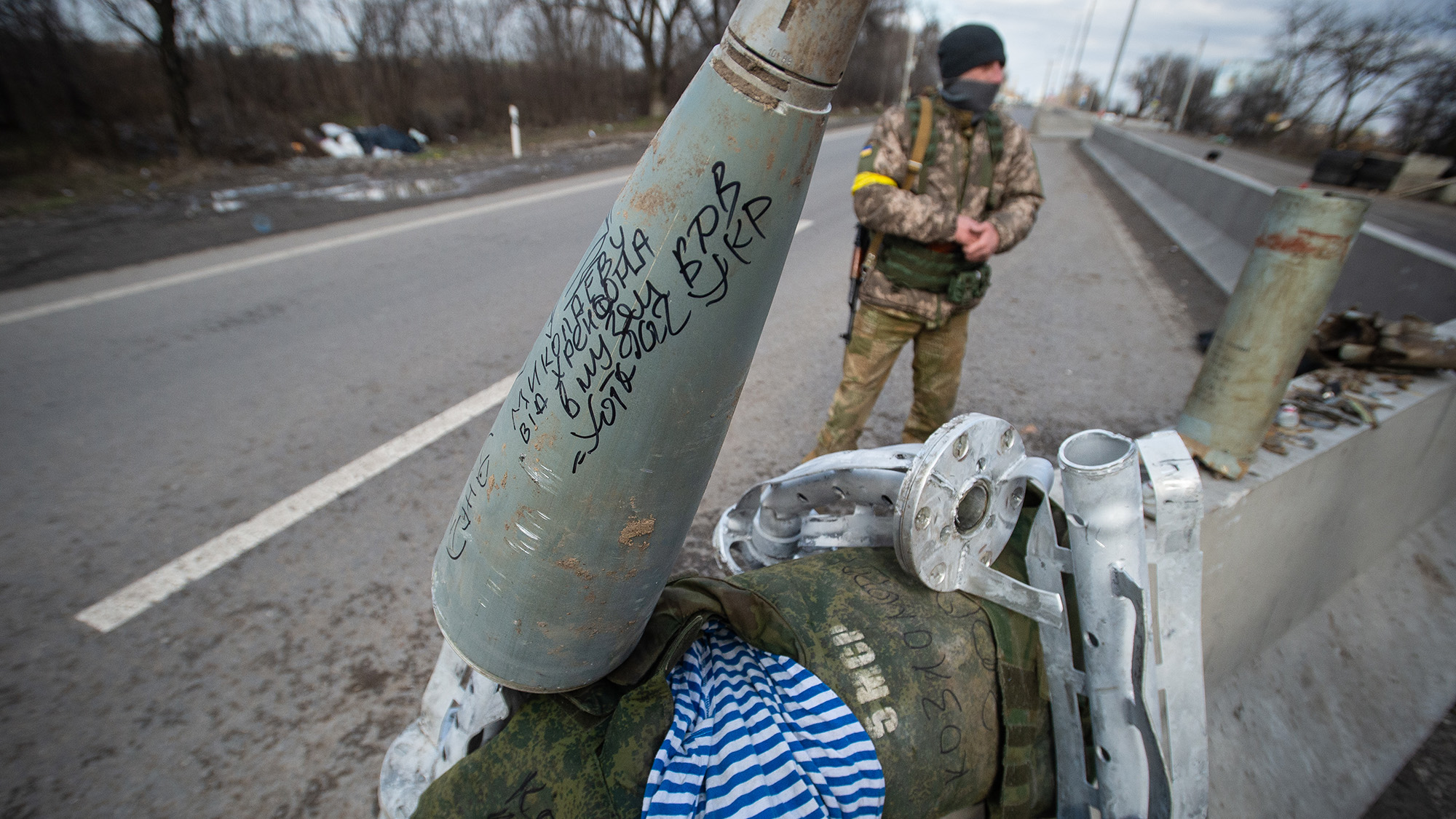 Following the constant flow of developments can be confusing and overwhelming.
As the war in Ukraine continues, here's a guide to some of the terms you may have heard or seen: What they mean, and why they matter.
No-fly zone
A no-fly zone is an area where certain aircraft cannot fly for any number of reasons. In the context of this invasion, it would likely mean a zone where Russian planes are not allowed to fly, in order to prevent them from carrying out airstrikes on Ukraine.
Ukrainian President Volodymyr Zelensky has urged NATO to institute a no-fly zone, but NATO's Secretary-General Jens Stoltenberg has said that it is not an option being considered by the alliance.
Shelling
Russia has relied heavily on shelling key Ukrainian cities and towns as it seeks to seize control of locations in the country.
Shelling refers to artillery fire from large guns and has been used against administrative and residential buildings. Dozens of deaths as a result of Russian shelling have been reported by Ukrainian emergency services.
Cluster and "vacuum" bombs
NATO's Stoltenberg has accused Russia of using cluster bombs as part of its attacks on Ukrainian cities. These are bombs that not only deliver an initial explosion on impact, but also contain multiple smaller bombs that spread over a wide area. They are largely condemned by the international community due to the risk of civilian casualties when they are used in populated areas.
To learn more about key terms relevant to the invasion of Ukraine, read here.
57 min ago
WHO officials warn "certainly there'll be a rise in Covid-19" cases tied to Russia's invasion of Ukraine
From CNN's Jennifer Hansler and Ellie Kaufman
As Russia continues attacks in Ukraine, global health leaders warn that "certainly there'll be a rise in Covid-19."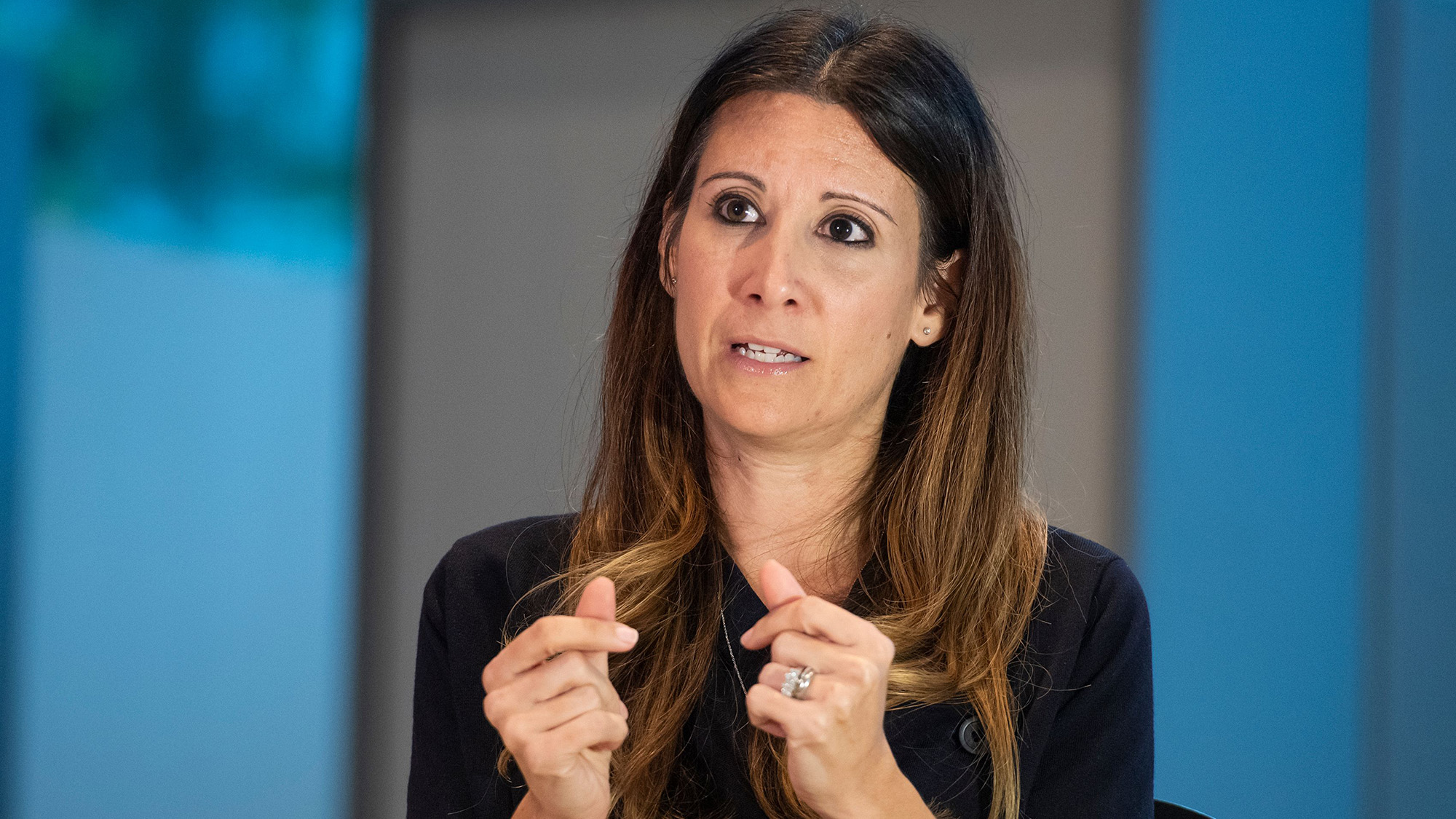 Some activists in the region already have seen a spread of the disease.
"Some of our volunteers got infected with Covid while helping manage refugees at the border or refugee centers. And because in both Moldova and Ukraine the vax rate is so low, the pandemic is still on," Constanta Dohotaru, an activist involved in the refugee crisis in Moldova and working closely with the Moldovan government, told CNN.
The Covid-19 vaccination rate in Moldova is around 29% and in Ukraine it is about 34%, according to Our World In Data.
In a news briefing Wednesday, officials at the World Health Organization also said that as the pandemic continues, Russia's invasion will impact the spread of the coronavirus that causes Covid-19.
"Unfortunately, this virus will take opportunities to continue to spread. We, as an organization, recognize that countries are in very different situations, they're facing different challenges. There's a lot of movement and refugees associated with this crisis," Maria Van Kerkhove, WHO's technical lead on Covid-19, said Wednesday.
Van Kerkhove added that WHO will work with countries receiving refugees to ensure that Covid-19 testing and vaccinations continue. It is estimated that more than 2 million people have fled war-torn Ukraine, with most going to Poland.
In a Twitter post Thursday, WHO described the situation as "the fastest growing refugee crisis in Europe for more than 75 years" and noted that it "is working closely with health authorities on meeting refugee needs," and supporting Ukraine's health system.
"Certainly, there'll be a rise in Covid-19 within the population within Ukraine, without a doubt, because — not testing, without access to treatment, with vaccinations stopped and there's already low vaccination. I think about 34% or 35% vaccination rate before the conflict," Dr. Mike Ryan, executive director of WHO's health emergencies program, said in Wednesday's briefing. 
"So, there are many people who still remain vulnerable to infection," Ryan said, but he added that the world should be careful not to perpetuate harmful prejudices and stereotypes around refugees and Covid-19.
"Let us be very careful with our rhetoric because this always arises, that in some way people fleeing the horrors of war are going to bring stuff with them," Ryan said in part. "Europe has plenty Covid as it stands, and it has got to deal with that — and Ukrainian refugees are not going to change the dial on that."
3 hr 43 min ago
Russia to deliver modern military equipment to Belarus, state news agency says
From CNN's Chris Liakos
The leaders of Russia and Belarus have agreed on collaborating further in the near future, according to the state-owned Belarusian Telegraph Agency (BelTA).
According to BelTA, Russian President Vladimir Putin and Belarussian President Alexander Lukashenko agreed on deliveries — by Russia to the Republic of Belarus — of the most modern models of military equipment in the near future.
In turn, Belarus will increase the supply of modern agricultural, passenger equipment, and other engineering products, the Belarusian state news agency reported, citing the press secretary of the Belarusian leader Natalya Eismont.
The two leaders agreed on joint steps for mutual support in connection with the sanctions pressure, including on energy prices.
Government delegations of Belarus and Russia will hold talks in Moscow on Monday to work out specific decisions on all the issues discussed.
4 hr 41 min ago
Ukrainian children with cancer arrive in Spain for treatment
From CNN's Al Goodman in Madrid
Twenty-five Ukrainian children with cancer who fled the war in their country flew aboard a Spanish air force plane Friday from Poland to Madrid, where they will receive treatment, Spain's Defense Ministry said.   
The children, accompanied by family members, were immediately taken to Madrid hospitals for checkups to determine if they will stay in hospital or could go to lodging provided for Ukrainian war refugees, said Dr. Ana Fernandez-Teijeiro, president of Spain's pediatric oncology group SEHOP.  
On the flight, there were 22 more Ukrainian war refugees, including some children, the Spanish government said. 
Spain's SEHOP, a professional organization for pediatric oncologists, worked with Spain's Aladina Foundation and St. Jude Global, linked to St. Jude Children's Research Hospital in the United States, to bring the 25 Ukrainian children with cancer to Spain, Dr. Fernandez-Teijeiro told CNN. 
Similar collaborations are moving Ukrainian children with cancer to get treatment in other European countries as well, from a hotel staging area near Warsaw, Poland, Dr. Fernandez-Teijeiro added. 
There are about 1,000 Ukrainian war refugees in Spain to date who have requested government assistance, and they are currently in refugee lodging, such as homes, hotels or refugee centers, the press office of Spain's Ministry of Inclusion and Migrations told CNN. 
Spain has prepared an additional 17,000 beds, the press office said. 
There are about 114,000 Ukrainians living in Spain, Prime Minister Pedro Sanchez said recently. The ministry press office told CNN it thought that some of the initial arrivals of war refugees went directly to stay with their Ukrainian family members or friends, without notifying the government.
4 hr 1 min ago
Heavy Russian shelling has erupted in the southern city of Mykolaiv
From CNN's Tim Lister in Kyiv and Oleksandra Ochman
Heavy shelling by Russian forces has erupted around the southern Ukrainian city of Mykolaiv on Friday evening.
Social media videos showed fires in the area, and Vitaliy Kim, head of Mykolaiv Region Administration, said that there were "active hostilities near Guryivka," to the north of the city.
"We're trying to push them further," Kim said on his Telegram channel.
In a series of messages, Kim said the bombardment amounted to "indiscriminate shooting at civilian targets," including a cafe and apartment block. 
19 min ago
State Department: Americans who fight in Ukraine "face significant risks," including of capture or death 
From CNN's Ellie Kaufman and Jennifer Hansler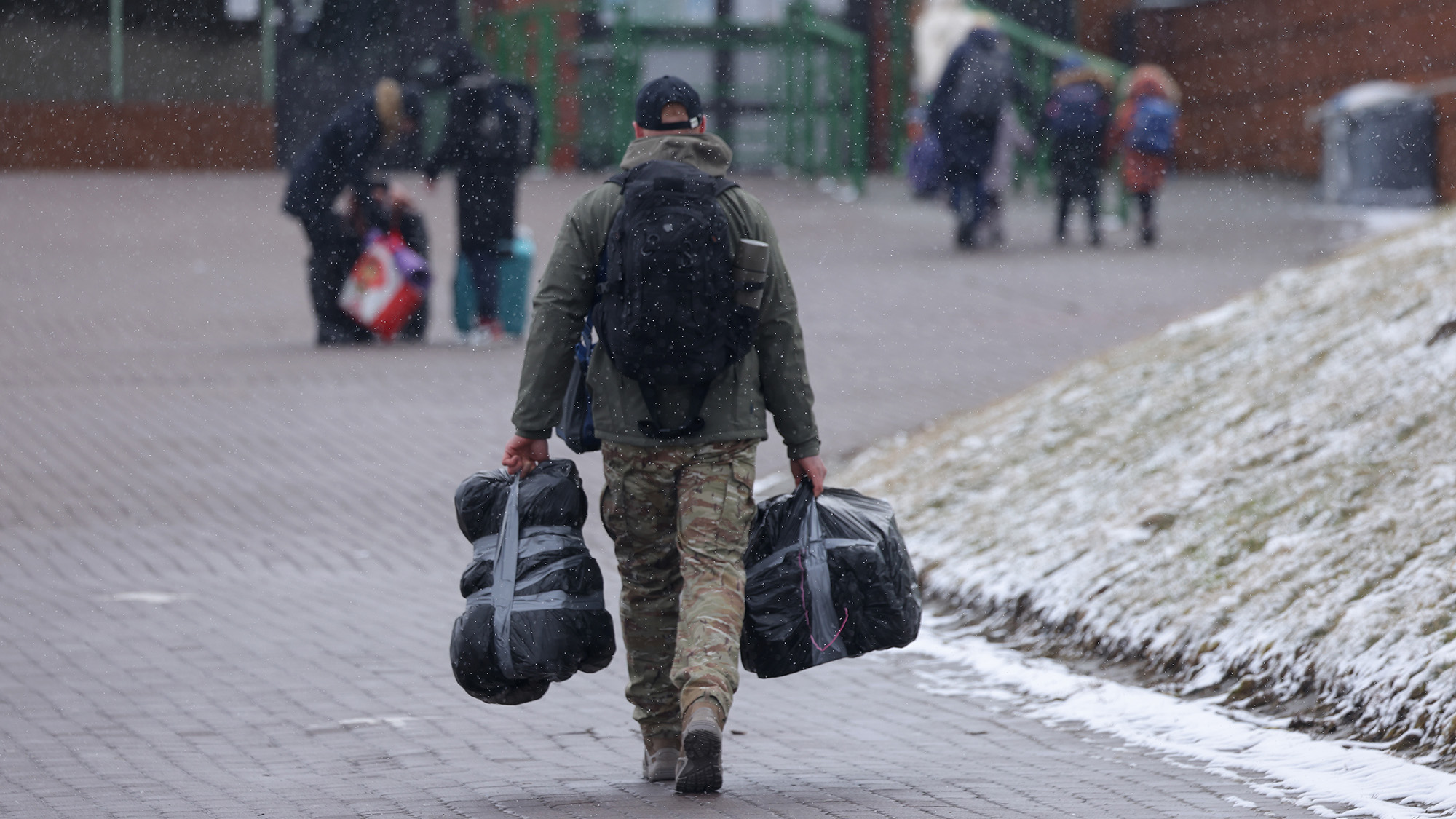 Americans who travel to Ukraine and fight with Ukrainian forces in the ongoing war will be treated by Russians as "mercenaries" or foreign fighters, Russians have said, which puts them at a greater risk of mistreatment, State Department spokesperson Ned Price said during a briefing on Friday. 
US citizens could also face criminal prosecution, capture or death from Russia for fighting on behalf of Ukraine in the war, Price said, adding that the US will also not be able to evacuate American citizens from Ukraine at any point.
"US citizens who travel to Ukraine especially with the purpose of participating and fighting there, they face significant risks, including the very real risk of capture or death. The United States, as you know, is not able to provide assistance to evacuate US citizens from Ukraine, including those Americans who may decide to travel to Ukraine to participate in the ongoing war," Price said.
The State Department encourages US citizens to help Ukraine in "constructive" ways through humanitarian assistance and other means, Price said.
"We continue to urge US citizens not to travel to Ukraine for their safety regardless of the underlying purpose, we continue to encourage them to diver their energies towards safe, constructive, volunteer or civil society activities," Price said. 
Asked by CNN if the State Department was aware of US citizens who have traveled to fight alongside the Ukrainians, Price said that is not something they would track as citizens are not required to register when they travel abroad.
4 hr 58 min ago
A photographer reflects on what he saw at Lviv's train station as thousands said goodbye to their home
From CNN's Sandi Sidhu
Photographer Peter Turnley spoke to CNN Friday about his experience covering the exodus of Ukrainian refugees at the Lviv train station in the western part of the country.
"I saw a line of thousands of people standing quietly and calmly waiting for their opportunity to board a train to flee this conflict to safety," he said.
"The true victims of war are people that have nothing to do with the conflict and whose lives are turned upside down by war after they cross a frontier from their homeland, have suddenly lost everything that relates to their existence," he continued.
Turnley shared what he saw in the refugees he encountered.
"While looking into the eyes of a multitude of Ukrainian refugees that had suddenly just crossed over the border from Ukraine to Poland, what I saw was pride, dignity, courage. And surprisingly, an amazing degree of resilience," he told CNN.
Turnley said many of the individuals departing are women and children, as men under the age of 60 have been banned from leaving the country.
"They've been separated from their husbands, their fathers, their young men, and they have no idea when they may return home," he told CNN.
Even in these dire circumstances, the photographer said he also saw many examples of humanity.
"A constant in the midst of the plight of a refugee crisis is that people have a tremendous need for each other. Often the only thing that is clear in their lives, is the notion of love and affection," he told CNN. "I've witnessed this incredible exodus of humanity out of Ukraine."
"You see often gestures of people holding hands, hugging each other, standing very close to each other," he said.
"The only bright lights that I am seeing are these gestures of love and affection that I see families showing towards each other as they wait for a destiny that is so unknown," he continued.
The photographer said he was especially struck by how these events would impact future generations.
"One sees a multitude of very young children, and it has occurred to me that this is a moment that they will never completely remember and at the same time, it's a moment that they will certainly never forget," Turnley continued.
The UN High Commissioner for Refugees said Friday that the number of people who have fled from Ukraine has now hit 2.5 million.
See some more of his images below: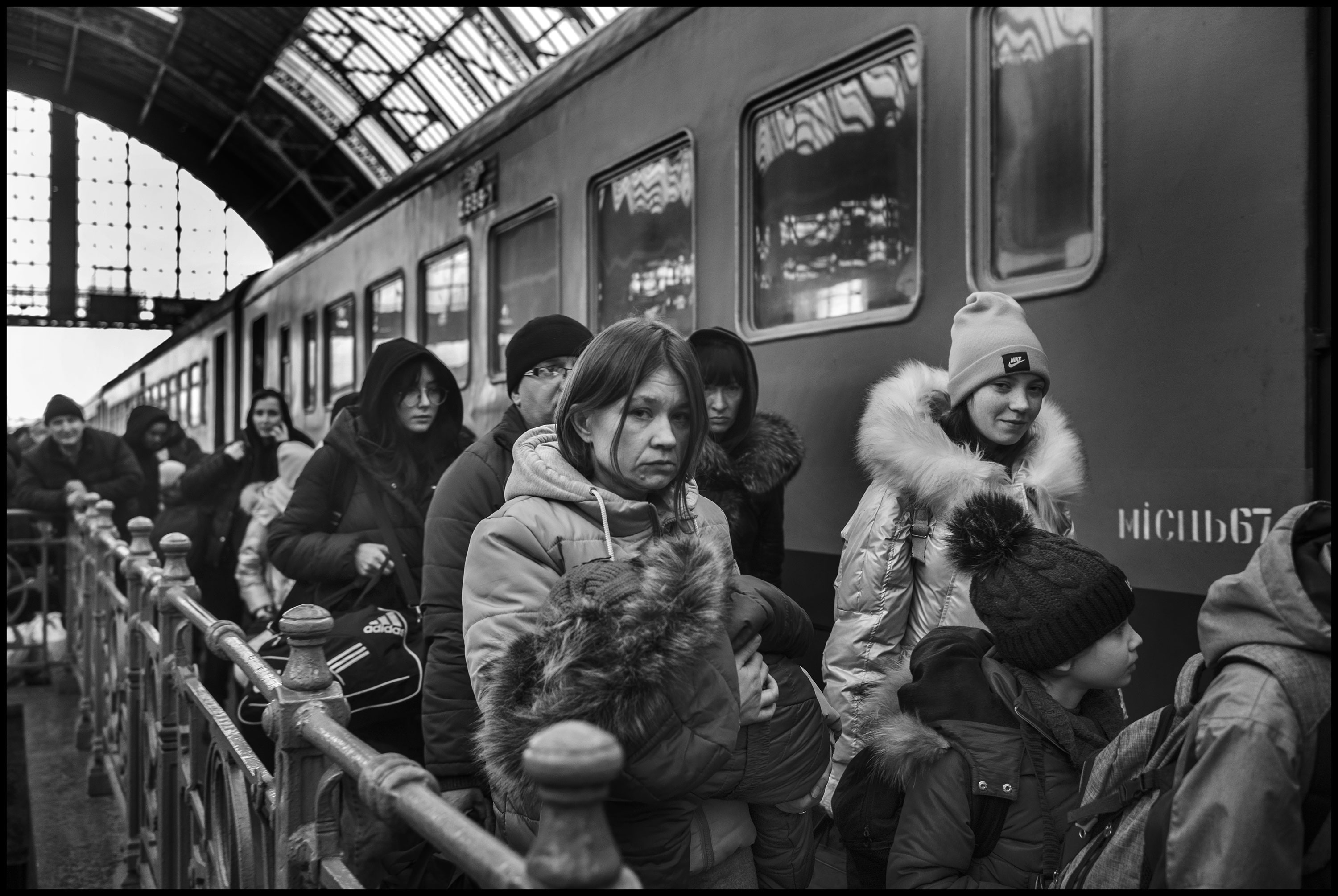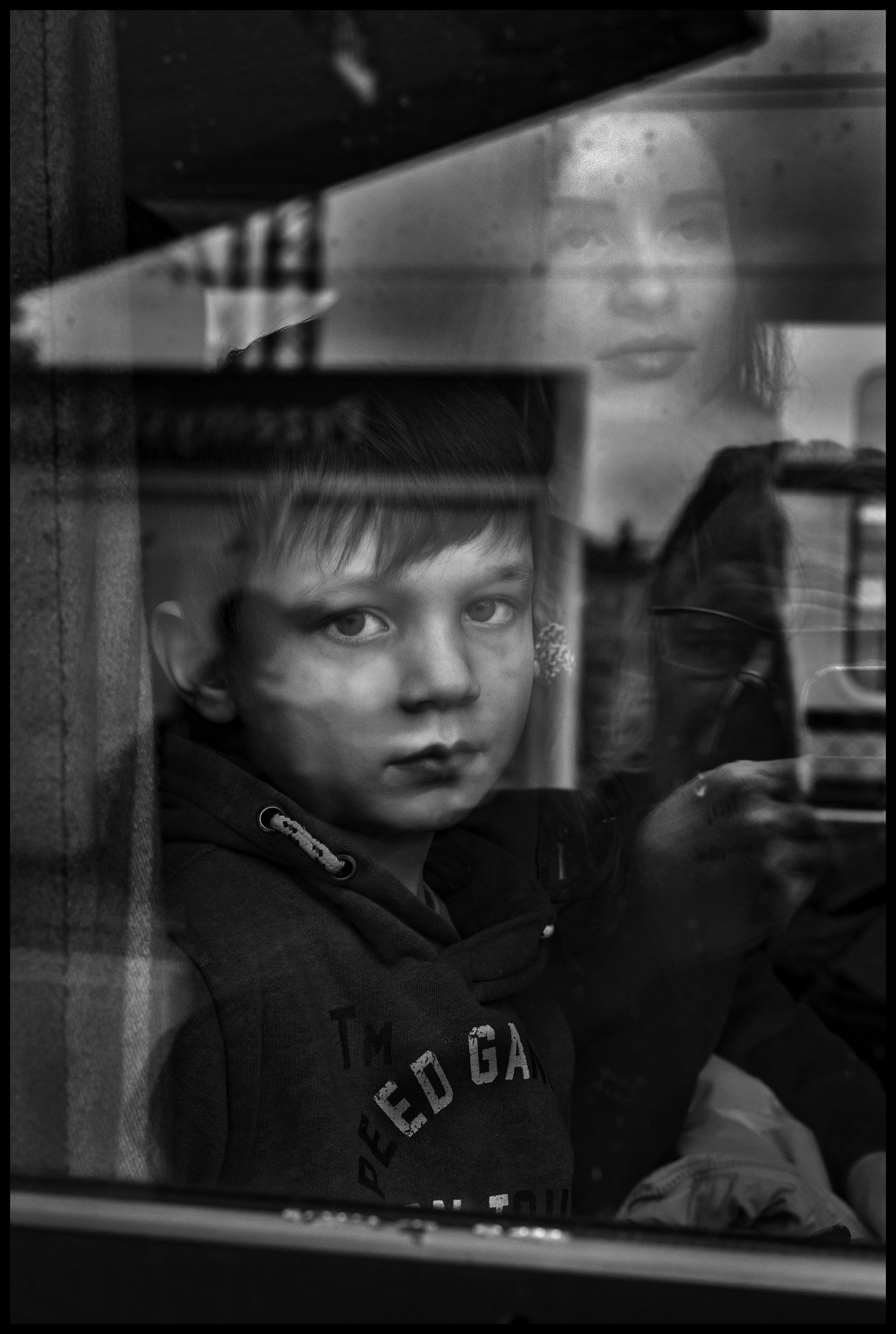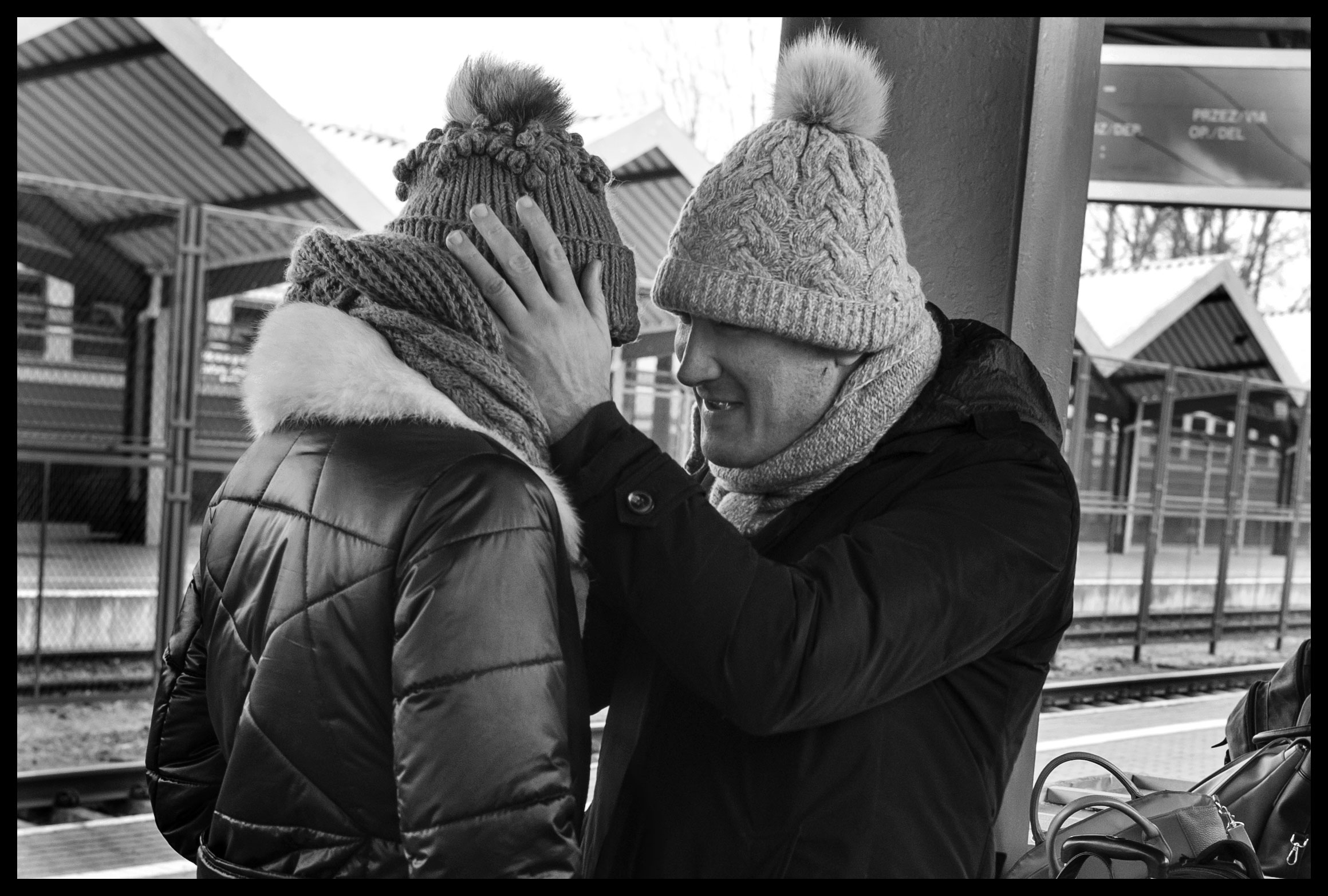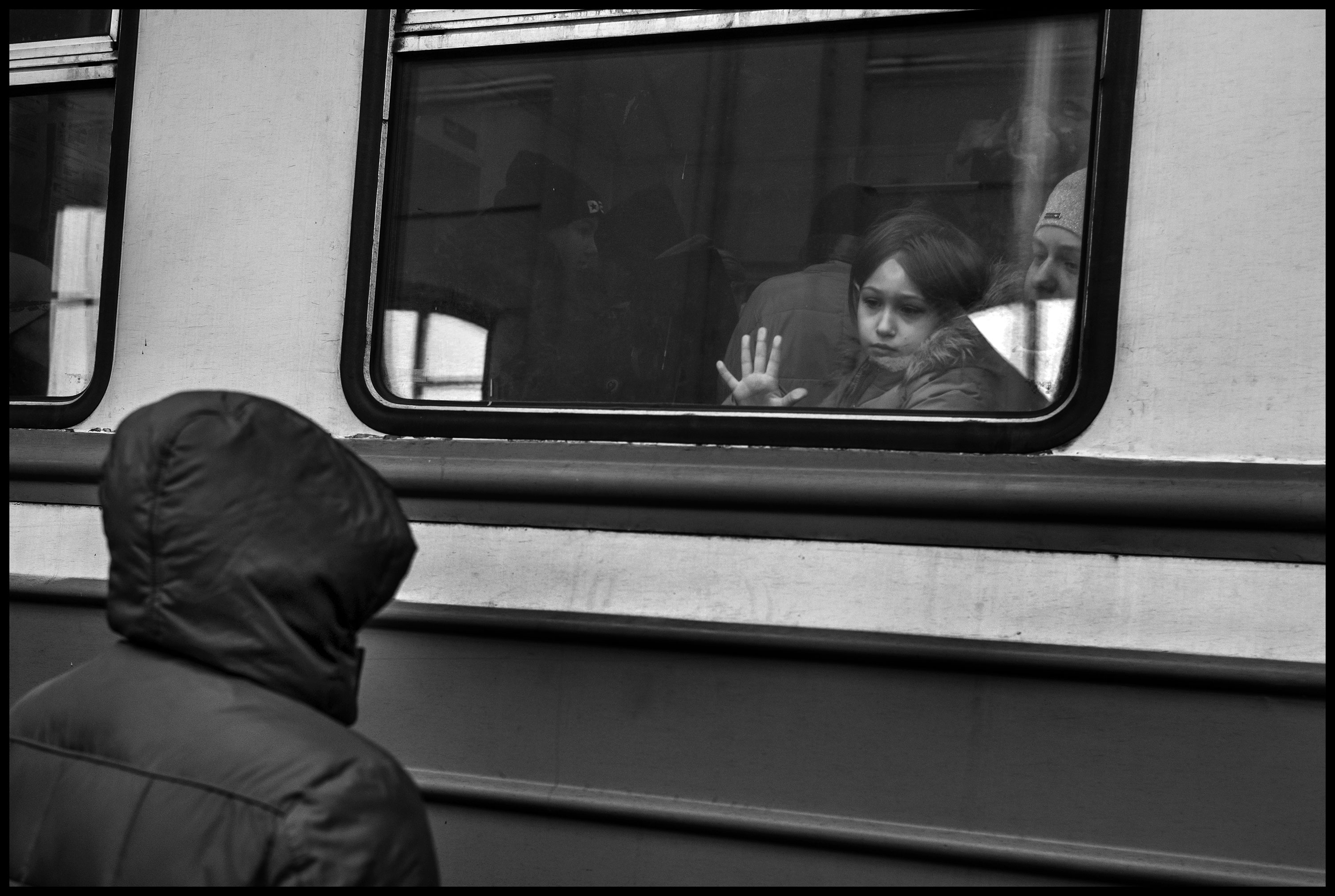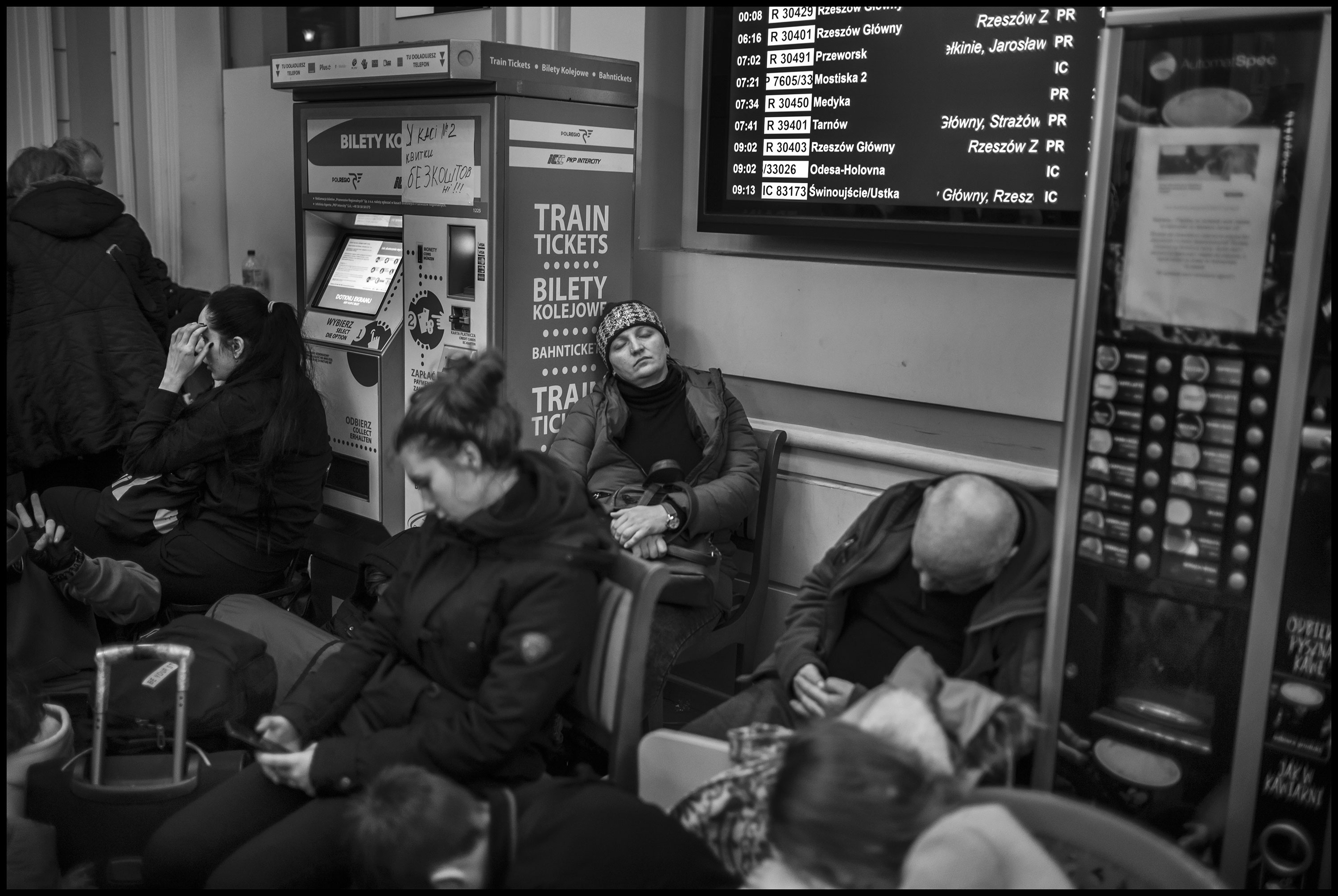 5 hr 17 min ago
Evacuation corridors across Ukraine get limited results on Friday
From Tim Lister in Kyiv, Mariya Knight and Olga Voitovych
Ukrainian authorities reported limited success in securing the evacuation of Ukrainian civilians from the worst affected areas Friday.
Around Kyiv, volunteers and local authorities were able to help thousands more escape the worst affected districts to the north and west of the city. Despite heavy outgoing and incoming fire, more 22,000 people had been evacuated after three days from the districts of Vorzel, Hostomel, Bucha and Irpin, all of which have seen extensive destruction and are without power and water, said Oleksiy Kuleba, head of Kyiv regional administration.
On Saturday, the administration would "be creating new routes to get to the towns which we couldn't reach yet to evacuate people," Kuleba added.
Chief among them is the town of Borodianka — some 25 kilometers northeast of Kyiv. It was again shelled on Friday as Russian forces continue their attempt to close in on the capital from the north.
Meanwhile, an attempt to evacuate more people from the town of Izium had been "disrupted by the Russian occupiers," said Kharkiv Gov. Oleh Synehubov in a Telegram post.
"We prepared 20 buses and humanitarian aid," he said, adding that a "green corridor" was agreed on and organized, but due to the shelling by the occupiers, it was never launched.
The buses were shelled and barely managed to turn round and get back safely. The evidence of shelling could be seen on the buses, he continued.
In the center of Ukraine, authorities reported the successful evacuation of more women and children from Enerhodar — which fell to Russian forces a week ago — and surrounding villages.
Most of the displaced in this region are being brought to Zaporizhzia before boarding trains to western Ukraine.
The head of Zaporizhzhia regional military administration, Oleksandr Starukh, said that local priests had joined efforts to get a convoy of aid to the besieged port city of Mariupol.  
Ukraine Defense Minister Oleksii Reznikov described the situation in Mariupol as very difficult. He accused the Russians of bombing the city even during official negotiations.
Local authorities in Mariupol say that nearly 1,600 people in Mariupol have died as a result of shelling and airstrikes against the city