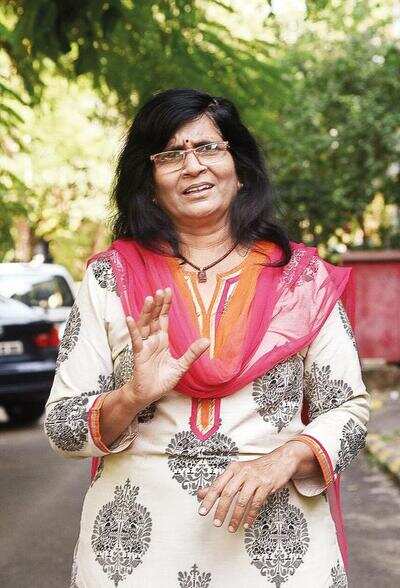 Pic By Ranjit Deshmukh
Paediatrician and clinical psychologist Dr Shubhada Khirwadkar is the national convener of 'Nurturing adolescence in schools' programme. She is also an executive board member of the Adolescent Health Academy. Currently associated with an NGO to implement a special programme for tribal adolescents, the award-winning health professional spoke to TOI on various psychological and physiological issues of the 10-19 age group.
Excerpts from the interview…
Q. What are the major adolescent issues that are cropping up in these pandemic times?
A. The adolescence is a developmental period of rapid transition in the physiological, psychological and social context for a child who is transforming from a phase of dependency towards independence and autonomy. The pandemic came with school closures, isolation, a feeling of being controlled by parents at home all the time, lack of in-person interaction and outdoor play. With the other peculiarities of the pandemic, the haphazard routine of eating, sleep, exercise (weight issues), the boredom of digital learning or no learning at all in the rural set up, screen overuse, gaming addictions, cyber-bullying and such aspects too confronted adolescents. Dealing with the fear of diseases, its unpredictability, anxiety of the future, career, limited finances (loss of jobs), tiding over grief, bereavement of loved ones (family or grandparents) led to depressive thoughts too.
Q. How has life changed for those residing in rural areas?
A. The rural adolescent population, especially the underprivileged, faced several unique challenges in addition to the ones already faced by their urban counterparts. Compromised nutrition remained a prime concern for them. The mid-day meals and other facilities made available through schools were discontinued. There were hygiene issues too due to scarcity of water, shortage of sanitary napkins and other benefits made available through the schools. They also faced hardships with digital e-learning systems newly introduced leading to loss or backlog in learning. There were also reports of worsening gender gap in education and rising domestic abuse. Child marriages and child labour are also two serious issues concerning the adolescent population, especially due to school closures and pandemic-hit family incomes.
Q. What are the signs of deviant behaviour among adolescents?
A. Parents need to carefully observe red flags which may persist for more than two weeks and are of high intensity and frequency. If adolescents are suffering from anxiety, then they would be constantly agitated, tense, restless or on-the-edge or can't stop or control worrying or might seem unable to relax. It also manifests in physical signs like tense or sore muscles, a racing heart or sweating, headache or stomach aches and nausea. They would be very sensitive to criticism or extremely self-conscious or uncomfortable in social situations. These adolescents always expect the worst to happen or seem to worry too much and out of proportion to problems or situations. They have difficulty in facing new challenges
Q. Depression is common among adolescents. Is there a way to deal with it?
A. Adolescents suffer from extreme mood swings, crying spells, violent outbursts, altered sleep cycles, loss or excessive appetite, reduced socialization and becoming reticent. Excessive screen use and getting highly upset if internet is unavailable is also seen. They also have a reduced interest in self-care, upkeep or daily routine. These adolescents also stop taking pleasure in things or hobbies in which they were previously interested. Parents should talk to them frequently, listen actively and keep the ambience at home relaxed and comfortable so that the child can communicate, build a rapport with them, seek professional help of counsellors and psychiatrists if the problem aggravates. Parents should also learn skills to communicate with adolescents.
Q. Cases of suicides are also on the rise.
A. Talks about ending life or what happens after death, giving away things dear to to an individual, saying sorry or asking for forgiveness repeatedly for no obvious reason should be taken seriously. Unnecessary aggression or sounding extra happy may also be seen with caution as it may be a smart way to mask or hide fear or depressing thoughts. Parents, teachers and peers should be very cautious to pick these tell-tale signs early, remain alert and not to leave such people alone for long, make them feel wanted, loved or important and seek professional help of counsellors and psychiatrists if the tendency or such signs persists beyond two weeks. We also need education and awareness programmes on suicide prevention. Schools and tuition classes must focus on teaching life skills and discuss these issues in parent-teacher meetings.
Q. Many adolescents are also losing interest in their studies or career.
A. If students do not believe that their efforts are likely to improve their performance, they would not be motivated to work hard. Similarly, if they believe intelligence is something you do or do not have, but not something you acquire over time, they may not see the point of the extra effort. They may lack coping skills to deal with tough competition and stress. So, the easy way out is to avoid studying. There are eight defined intelligences. Academic intelligence is just one of those. The curriculum may not offer opportunities for the other seven to develop. Hopefully, the National education policy (NEP) will correct this lacuna. Some may have genuine learning difficulties like Attention Deficit Hyperactivity Disorders (ADHD) or learning disability (LD) among others. Social media and screens are huge distractions and may also create issues pertaining to self-esteem, infatuations and bullying others.
Q. In what way has the pandemic affected adolescents?
A. Families with better communication, who followed good routines of study, sleep, exercise, shared housework, created avenues of togetherness, enjoyment, monitored screen time productively and listened well to fears and worries of each other, especially adolescents, fared better in terms of frustration and tolerance during the pandemic. Phobias, anxiety, depression, post-traumatic stress disorder (PTSD) and such complications are definitely on the rise. During the second wave, with high mortality, many adolescents lost their grandparents and even their parents. So, handling grief, bereavement and the sudden burden of being a responsible 'adult' became an additional issue for them. Extreme Covid fatigue has become a reality now and in-person school education is being highly sought by most teenagers. The social adjustment, psychologically and academically, on the reopened school campuses after being home bound for so long is also a big issue. However, skilled handling by sensitive teachers and gradual 'homing in' in the classroom will help.
Q. Are gadgets like mobile phones affecting behavioural patterns and personality traits?
A. Yes, the quantity of time and quality of the content matters. Excessive screen time has effects on the mind, body and behaviour leading to headache, back ache, wrist pain, sore eyes, lack of sleep and obesity. Watching violent content numbs their sensitivity and they may follow such patterns of aggression. Gaming and watching porn are often addictive. Thus, we need supervised screen use. Excessive screen watching may also point towards some underlying psychological issues which need to be referred to an expert. Following a diet plan by the whole family works well for everyone. One must also not forget that social media and digital learning have given them peer and school connectedness. Many adolescents have made very useful and creative use of screen to do social work, help the disadvantaged, hosted interesting social events across the globe and also showcased their talents. Some shy ones have become bolder on screen and hidden gems have been discovered by parents and teachers. Parents must refer to the excellent guidelines prepared by the Indian Academy of Paediatrics on screen time and digital wellness which are available on their website.
Q. Are today's adolescents more inclined towards sexual indiscipline, substance abuse and crime?
A. Understanding sexuality with all its dimensions like being comfortable about your body, respecting it, identifying with one's gender, respect for the other gender, respect for feelings and wishes of each other in a relationship are important. It is a journey of curiosity and exploration for a growing adolescent. It is the duty of adults (parents, teachers, doctors) to talk to them about sexuality, its abuse and its myths and realities. Even substance abuse is also definitely on the rise along with alcohol and nicotine, marijuana and addiction of other narcotic drugs. Easy availability, seeking instant pleasure and thrill as a part of peer pressure and loyalty or as a 'cool' way to handle stress, to get a 'high' to banish depressive thoughts are some common reasons for their indulgence. Halting the habit early gives a better chance to prevent addiction. So, seeking expert help early is a must. Many parents think that he or she will soon 'wisely get over it'. And precious time is then lost.
Q. Are adolescents from rural places too reflecting a change in behavioural patterns and personality changes?
A. Adolescents in rural areas have faced a grave digital divide. Most don't have smart phones and 4G networks are erratic there. When schools closed, they were left in the lurch. Though teachers and NGOs did try to reach out to them the efforts were woefully lacking. With limited means and parents facing unemployment, migration blues during lockdowns, many rural adolescents were forced to join farms as labourers or do manual work. Their mid-day meals and weekly iron-folic acid tablets from schools stopped. This badly affected their nutrition and haemoglobin. Girls faced gender discrimination in provision of food at home or getting a smart phone for education. School dropout rates have increased, especially for girls. Though ashram shalas have now reopened, parents think it is futile to send them back to school. Boys who started getting labour wages started to think that education is no longer a game changer for them. Many bought mobile phones but are now seen whiling away their time getting tied to phone videos and films on OTT platforms. Many girls were married off thinking they are already out of school and have remote possibility of further education. They also faced sexual abuse at home.
Q. How can adolescents be made more productive and successful?
A. Let us understand that they have a hyperactive, highly emotional, impulsive brain but their 'thinking brain' is also maturing gradually. Stimulating their thinking brain (prefrontal cortex) through respectful discussions, seeking their opinions on various issues and clearing their doubts, queries and confusions without being moralistic or judgemental is a skill we adults need to learn. Most adolescents would then go through this transient turbulent phase of life smoothly. Recognizing their potential in various intelligences, expressing trust in their worth, appreciating them, listening actively to their opinions in a non-judgmental manner, communicating with them with patience, empathy and guiding them along sensitively when they face problems will help them put their best foot forward.

FacebookTwitterLinkedinEMail