4 hr ago
Ukraine likely conducted a successful attack against Russian ships, US assesses
From CNN's Oren Liebermann
The US has assessed that Ukraine likely did conduct a successful attack against Russian ships in Berdiansk, according to a defense official. It's unclear, however, what type of weapon or weapons were used in the attack.
The assessment echoes a similar statement from the British Ministry of Defence, which said that Ukrainian forces have attacked "high-value targets" in Russian-occupied areas of Ukraine, including a landing ship and ammunition depots at Berdiansk. 
Earlier Thursday, Ukraine said they destroyed the Orsk, a landing ship docked at the Berdiansk port on the Sea of Azov. Video from the city showed plumes of smoke pouring out of the dock area, as well as multiple explosions. 
One day earlier, Russia's state-run RT media outlet had profiled the Orsk in Berdiansk port, saying it could carry 20 tanks or 40 armored personnel carriers.
3 hr 59 min ago
Russian warship featured on Pro-Putin "RT" network one day prior to its explosion
From CNN's Andrew Carey and Yulia Kesaieva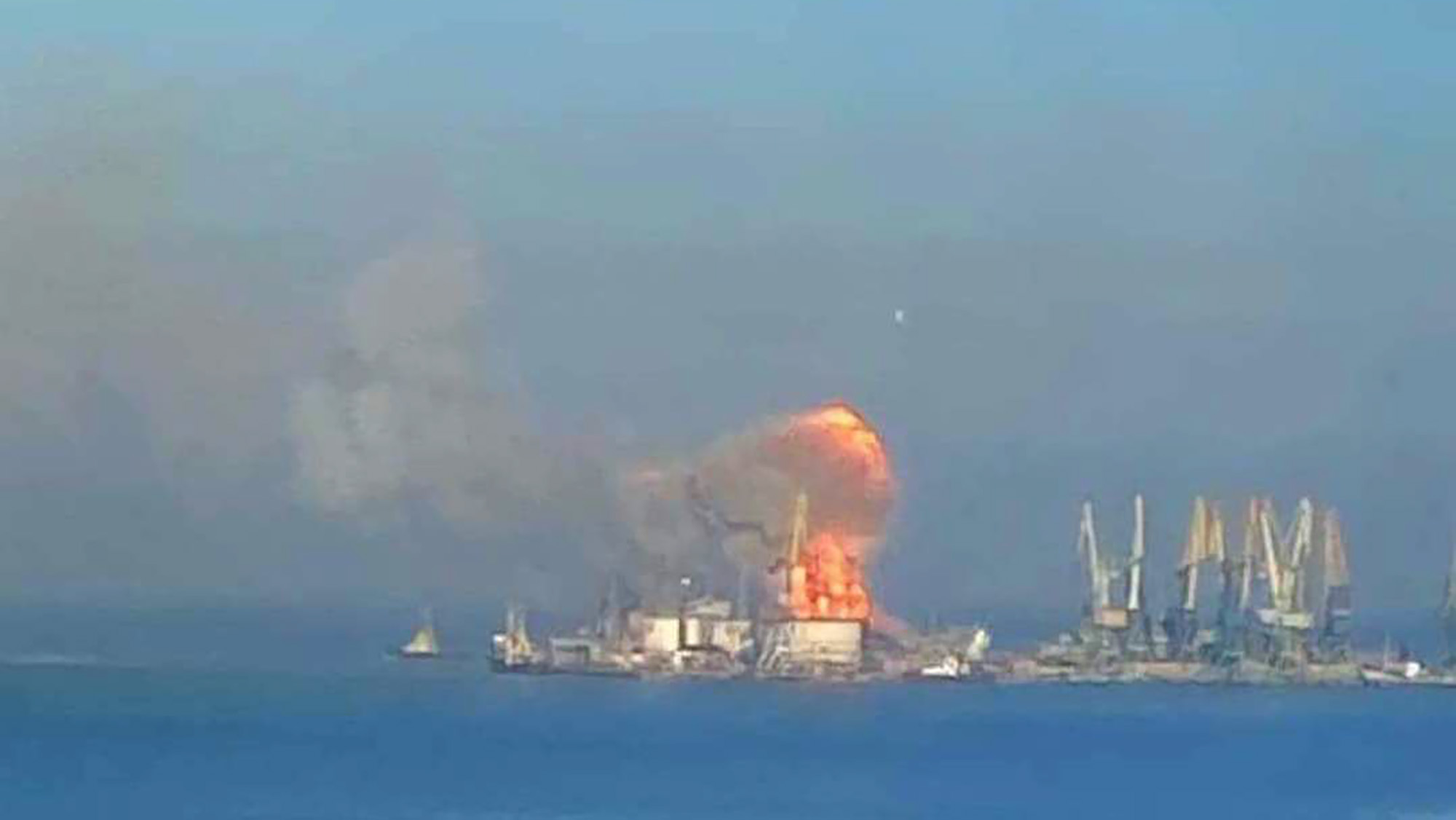 Orsk, a Russian warship, was recently featured as part of a lengthy news report on the pro-Putin international TV network, RT. The next day the ship exploded in Ukraine.
The television piece opens with drone video looking down on the Orsk as the reporter mentions the vessel by name. As the camera shows an armored personnel carrier being slowly lifted off the ship, the reporter declares, "This is a unique sight: a Russian naval armada at a port which Ukrainian troops had abandoned without a fight, leaving its facilities entirely intact." 
Later, standing on deck, the reporter reveals some of the ship's weaponry, including two large naval guns, before going on to detail the ship's main function as a landing vessel. 
"The point of this ship is to transport troops and heavy equipment. It can fit as many as 20 tanks, or 40 armored personnel carriers, along with hundreds upon hundreds of troops," the reporter says in the piece.
"For Russia's operation to succeed, it is paramount that troops are supplied and reinforced non-stop," the reporter continues. 
In an indication of why the loss of the Orsk could represent a significant setback for Russia, a Russian officer standing quayside says, "Our arrival here is a milestone event, it opens up completely new opportunities for the Black Sea Fleet to use existing Ukrainian infrastructure for our logistics operations." 
Russia's Defense Ministry has made no official comment about the explosion. The ship was consumed by fire in the port of Berdiansk in southeastern Ukraine, an event captured on social media. In various videos, fires are seen raging at the dockside, as secondary explosions reverberated across the city.
Ukraine's armed forces say they were responsible for destroying the ship, though they have not given details of any weapons used in the attack. 
"Units of the Armed Forces of Ukraine hit large landing ships stationed in the port of Berdiansk. As a result, a fire broke out on a large landing ship … followed by the detonation of ammunition. Enemy losses are being clarified," said an army statement.  
RT is state-controlled Russian media and is considered a mouthpiece for the Kremlin. It has been under international sanctions since the beginning of the month.
4 hr 47 min ago
Ukraine tells the US it needs 500 Javelins and 500 Stingers per day
From Zachary Cohen and Oren Liebermann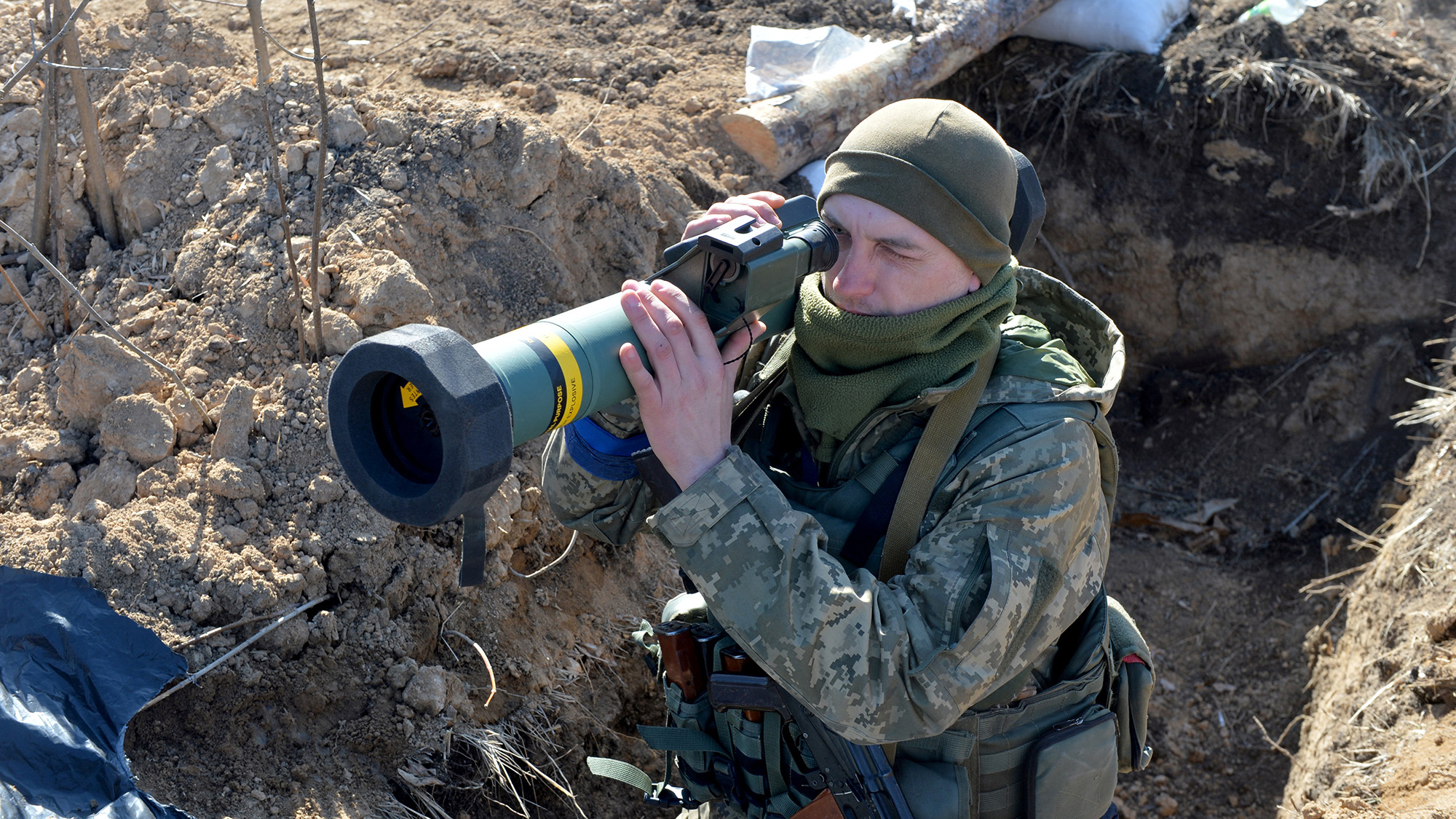 Ukraine has updated its extensive wishlist of additional military assistance from the US government in the past several days to include hundreds more anti-aircraft and anti-tank missiles than previously requested, according to a document provided to CNN that details the items needed. 
The Ukrainians have submitted similar lists in recent weeks, but a recent request provided to US lawmakers appears to reflect a growing need for American-made Stinger anti-aircraft missiles and Javelin anti-tank missiles — with Ukraine saying it urgently needs 500 of each, daily.  
In both cases, Ukraine is asking for hundreds more missiles than were included in a similar list recently provided to US lawmakers, according to a source with knowledge of both requests. 
The new list comes as the Ukrainians have claimed they face potential weapons shortages amid an ongoing Russian assault – prompting some pushback from US and NATO officials who stress that more military aid is already going into the country. 
By March 7, less than two weeks into Russia's invasion of Ukraine, the US and other NATO members had sent about 17,000 anti-tank missiles and 2,000 anti-aircraft missiles into Ukraine. 
Since then, NATO countries, including the US, have kept the pipeline of weapons and equipment flowing, even as Russia has threatened to target the shipments.
The last of a US $350 million security assistance packaged approved in late-February arrived in Ukraine within the last few days, a senior defense official said, while the next two packages totaling $1 billion have already started to arrive.
US President Joe Biden said Thursday that "armor systems, ammunition and our weapons are flowing into Ukraine as I speak." The defense official said it would be "multiple flights over many days" to get the equipment to Eastern Europe before it enters Ukraine at multiple land border crossings. 
Meanwhile, on Wednesday, the United Kingdom announced they would ship 6,000 more missiles, including anti-tank and high explosive weapons, to Ukraine, along with about $33 million in financial backing for the Ukrainian military.
The list provided to CNN details several other urgent needs, including: jets, attack helicopters and anti-aircraft systems like the S-300. 
Two types of Russian-made jets are listed in the document, including one designed to provide close air support for troops on the ground. Ukraine has asked for 36 of each aircraft, according to the list provided to CNN. 
Some lawmakers in Congress believe the US should provide Ukraine with the weapons they're requesting as quickly as possible. 
Sen. Jacky Rosen, a Democrat from Nevada, visited Poland and Germany last weekend to meet with civil society organizations helping Ukrainian refugees who've arrived in those countries as well as US troops stationed abroad helping with humanitarian efforts. 
Rosen said her biggest takeaway from the trip was the "sense of urgency," on the ground. 
"They need all the tools to not just survive the war, but to win the war, so whether we provide them air to ground missiles, drones, all the military support," Rosen told CNN.
6 hr 22 min ago
Ukrainian forces make gains east of Kyiv while intense combat reported north of capital
From Tim Lister, Paul Murphy and Oleksandra Ochman
There's been heavy fighting in several directions around Kyiv Thursday, according to official Ukrainian accounts and social media videos geolocated by CNN. 
Ukrainian forces appear to have retaken territory to the east of the capital, reversing previous Russian gains. Social media videos geolocated by CNN showed Ukrainian troops along with some captured Russian armor in the small settlement of Lukyanovka, some 35 miles (or 55 kilometers) east of the capital. 
Russian forces moved into the district in the second week of March as they advanced from Sumy in the east, and the Ukrainian Defense Ministry reported civilian casualties as the area was evacuated. 
On Thursday, social media video depicted the aftermath of heavy battles, with a Ukrainian soldier in Lukyanovka saying that "the operation was completed, with absolute success, we knocked out the enemy." 
The soldier added that three Russian tanks and nine infantry fighting vehicles were destroyed and that Ukrainian troops were moving to surround Russian units in the nearby village of Peremoha and other settlements in the region. 
Remember: There's no way to verify the soldier's claims, but US officials reported earlier this week that Ukrainian forces were pushing back Russian units to the east of Kyiv. The Ukrainians appear to have advanced from the south.  
To the north of Kyiv, Ukrainian officials reported heavy rocket attacks by Russian forces against the contested town of Irpin. 
Drone footage geolocated by CNN shows widespread devastation, with fires raging among a jumble of abandoned vehicles. 
The mayor of Irpin, Oleksandr Markushyn, told CNN Thursday that the town had come under heavy rocket fire. He said he had just left Irpin and one of his team had been killed. 
"Now there is a big fight in Irpin between Ukrainian and Russian armies. It is very dangerous to be here." 
He said that 80% of Irpin is controlled by the Ukrainian army but the Russians were using GRAD rocket systems against the town. 
The same assessment was given later by Vadym Denysenko, an adviser to the Interior Minister, who said combat continued in Irpin and the neighboring towns of Bucha and Hostomel, which have seen persistent and sometimes intense fighting since the first days of the invasion. 
3 hr 11 min ago
Biden and European Commission president say they are "united in condemnation" of Russia's invasion of Ukraine 
From CNN's Nikki Carvajal
US President Joe Biden and European Commission President Ursula von der Leyen said they are "united in our condemnation of Russia's unjustified and unprovoked war of aggression against Ukraine" in a joint statement from the two leaders Thursday evening. 
"We are united in our support of Ukraine's sovereignty and territorial integrity. And we are united in our resolve to defend our shared values, including democracy, respect for human rights, global peace and stability, and the rules-based international order," the statement reads, before going on to list "transatlantic efforts to support the Ukrainian people."
Among the efforts the leaders highlighted, Biden and von der Leyen said "the United States and the European Union are supporting the work of war crimes documentation experts who are gathering evidence on the ground in Ukraine," in addition to outlining their efforts on issues like food security and humanitarian relief.
6 hr 46 min ago
Biden says he will "discuss China" with European Council after being asked if he trusts the country
From CNN's Nikki Carvajal 
US President Joe Biden told reporters he would "discuss China" with the European Council before heading into a meeting with the group on Thursday.
After greeting President of the European Council Charles Michel, Biden was asked by a reporter if he trusts China.
"Yes," Biden answered, before adding "well, we'll discuss China. I've spent some time with Xi Jinping and I hope we're gonna get the chance to discuss China."
Biden also said unity between the United States and Europe was "the single most important thing that we can do to stop this guy who's, in our country, we believe he's already committed war crimes."
6 hr 33 min ago
UK prime minister: There is evidence that Russia may be trying to get around sanctions on gold
From CNN's Alex Hardie in London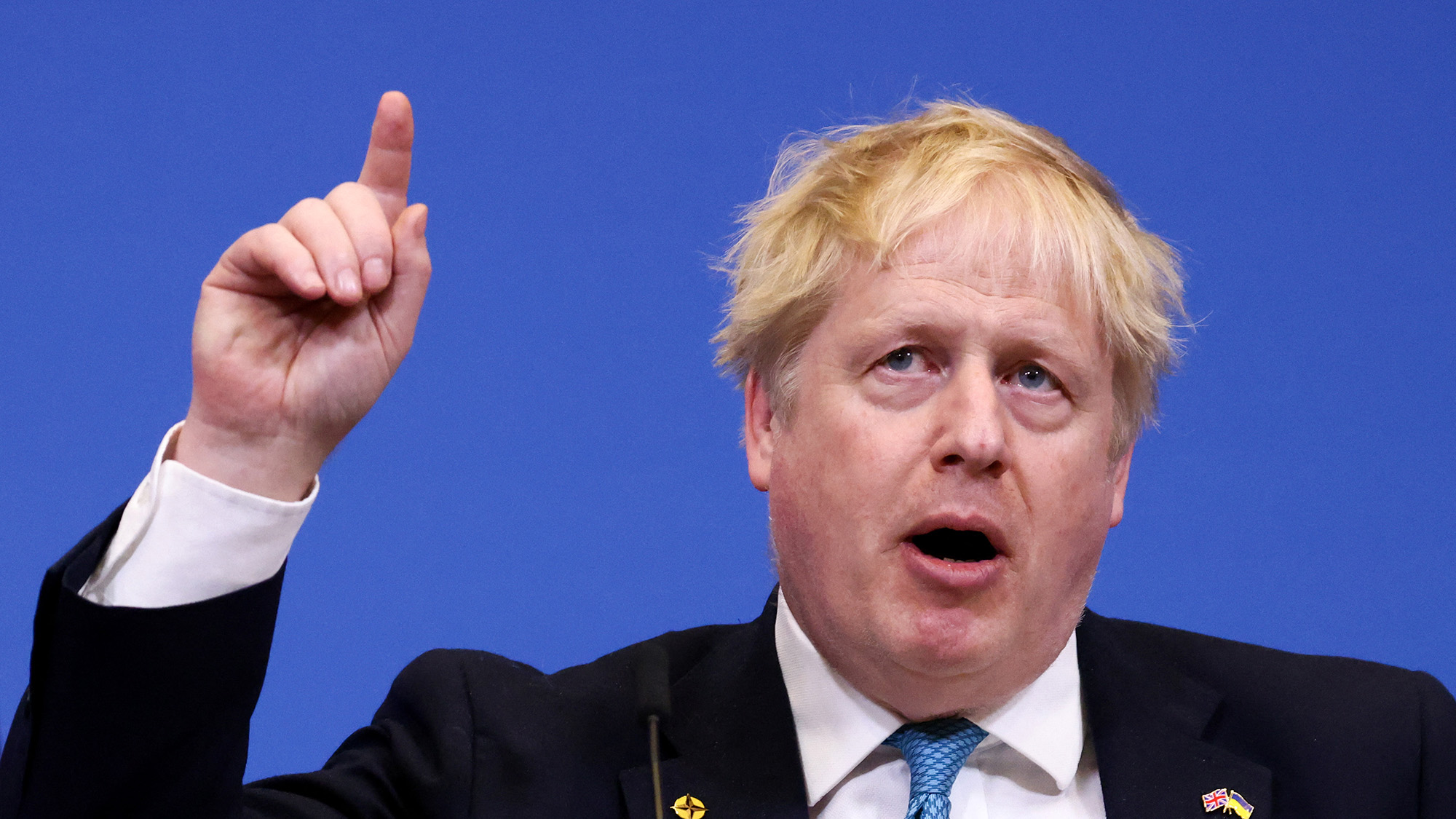 UK Prime Minister Boris Johnson says there is evidence that Russia may be trying to get around the sanctions on their gold.
Speaking at a news conference in Brussels, Belgium, on Thursday, Johnson said: "There is evidence that the Russians may be trying to get round — I mean the Russians are going to try to get round — the sanctions on their gold."
The UK Prime Minister did not provide further details.
"We are taking steps to try to make sure there is no leakage, no sale of bullion into markets around the world," Johnson added.
Earlier today the G7 leaders said in a joint statement: "We will continue to cooperate closely, including by engaging other governments on adopting similar restrictive measures to those already imposed by G7 members and on refraining from evasion, circumvention and backfilling that seek to undercut or mitigate the effects of our sanctions. We task the relevant Ministers in a focused initiative to monitor the full implementation of sanctions and to coordinate responses related to evasive measures, including regarding gold transactions by the Central Bank of Russia."
6 hr 27 min ago
Here's what Zelensky told G7 leaders during today's emergency meeting
From CNN's Arnaud Siad
Addressing G7 countries via videoconference Thursday, Ukrainian President Volodymyr Zelensky told them that they could be a "great group of peacekeepers" by stepping up sanctions and creating a new association called U-24.
Earlier on Thursday, Zelensky also addressed NATO leaders virtually.
"We can make your G7 group not just a great seven, but a great group of peacekeepers, a great seven peacekeepers. What do we need? Ukraine is very specific in answering this question. Every week we must step up sanctions against Russian aggression until it ends and peace is restored," Zelensky told the G7 countries.
He added, "Next, we need to create a new system of security guarantees for Ukraine and our region. Real guarantees effective guarantees that can stop any aggression within 24 hours. Within 24 hours, we have proposed an association, a U-24. Something that the world needs not just to prevent wars, but also to stop active hostilities that have already begun and also to provide support to those countries that suffer from natural disasters or need support during pandemics or which face migration or food crises."
Zelensky asked the leaders how many urgent summits would need to be held until the problems created by Russia can be solved.
"In the recent years, Russia has managed to create so many crises and so much instability that it has become the main problem for the world. A problem that is only increasing and we can't even guess how many such urgent summits would have to be held before the problems created by Russia can be solved," Zelensky told the G7 meeting.
Ukraine's president warned G7 countries that Russia's actions in Ukraine were leading to a global food crisis.
"Russia has destroyed global security architecture and dealt a powerful blow to international relations. But this is only the beginning. This war can be followed by a global food crisis. The longer there is no peace on Ukrainian land, the less food the world market will receive from Ukraine and many countries in Asia, Africa and even Europe may suffer extreme problems with access to basic foods and prices for food. This will definitely result in political destabilization and maybe that was the purpose of the Russian leadership. I don't know," Zelensky said. 
"But we must act immediately. We must immediately stop Russian troops and get them out of Ukraine. We need immediate peace before the world faces another level of problems. It is better to use sanctions against Russia now as much as possible to stop its military machine than later to deal with the consequences of a global food crisis," the Ukrainian president added.
Zelensky called for a "full embargo to trade" with Russia, and to prevent Russia from using the GPS system.
"Unprecedented challenges require a full embargo to trade with Russia. Russia must be deprived of the opportunity to even use GPS in the war. It is important for this system not to help Russian missiles and bombs destroy peaceful cities," Zelensky said.
"Russian banks and mainly the Central Bank of Russia must be completely blocked from the global financial system. War criminals must be left without any money and their frozen assets must be turned also into reparations," he told G7 countries.
"This is in our interest, it is in your interests. It is in the interests of all democracies, because democracies must be able to defend themselves. Freedom must be armed. Life must triumph over death," Zelensky said.
Ukraine's president again accused Russia of deploying phosphorous munitions, certain usages of which are either banned or circumscribed under international law. CNN is not able to verify these claims. The US State Department also told CNN it was aware of the reports but said it was not in a position to confirm. 
7 hr 54 min ago
NATO secretary general: I think it's unlikely there will be a full-fledged war between Russia and NATO
From CNN's Claire Calzonetti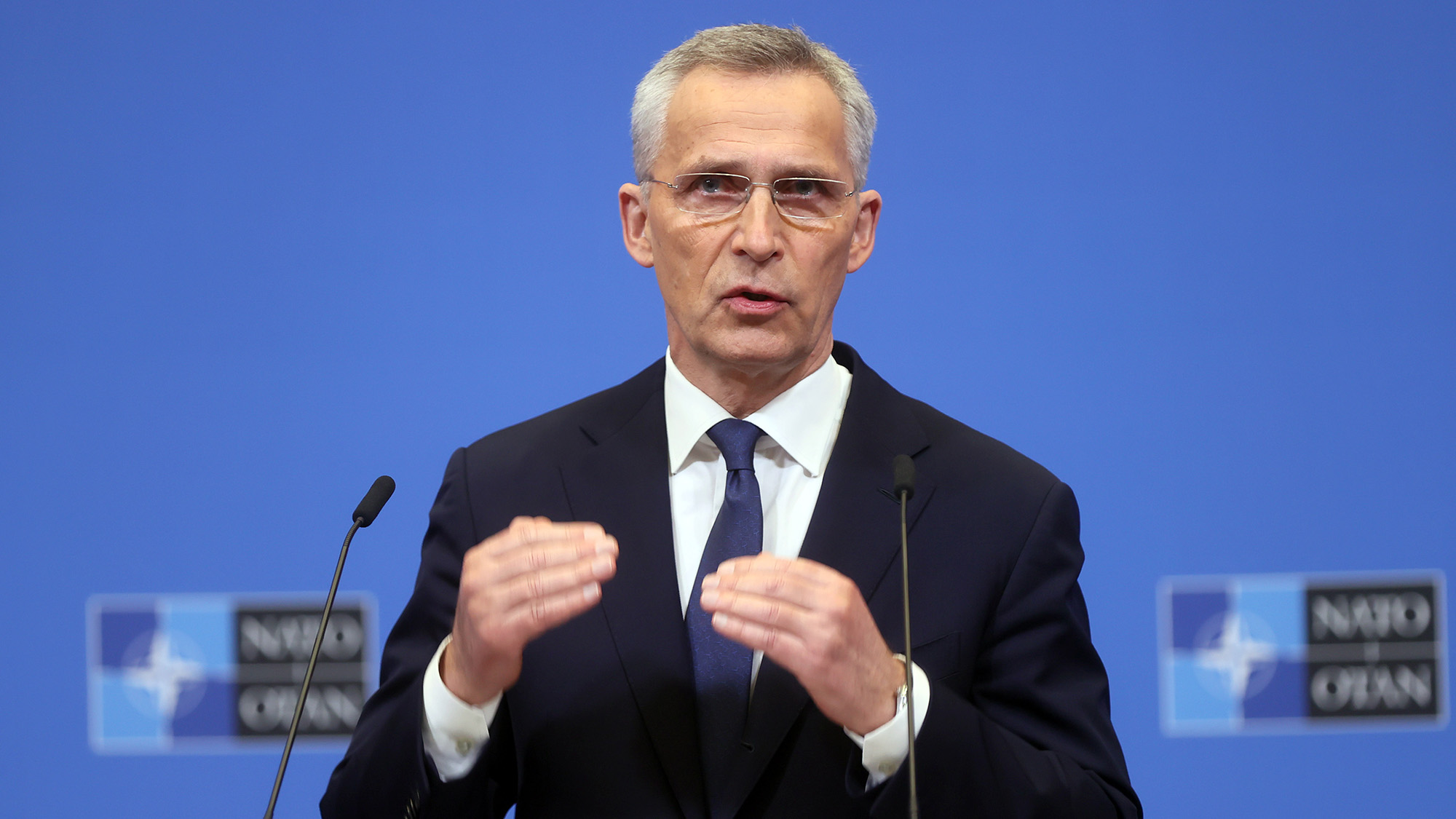 As Russia's war in Ukraine grinds on, NATO Secretary General Jens Stoltenberg said he thinks it's unlikely there will be a full-fledged war between Russia and the alliance.
Stoltenberg, speaking to CNN's Christiane Amanpour, credited the NATO countries' display of unity for lowering the likelihood of a full-scale war.
However, he said the on the ground in Ukraine is "extremely unpredictable," and that NATO is faced with a new reality and must be prepared for the long haul.
When asked about reports that Russia is not picking up the deconfliction line, Stoltenberg replied that is correct, and that the "Russians have not been ready, as I say, to use those lines, but we assume that if there is a need, they will be able to communicate with us."
The secretary general, who was meant to become Norway's Central Bank chief later this year, is now set to stay on as the head of NATO given the situation in Ukraine. "I feel privileged for the third time, actually, to extend my term." 
When asked if the job at NATO was more important than the job at Norway's Central Bank, Stoltenberg replied "I feel it is more important," adding that if there is anything he can do to stop this conflict from escalating into a full-fledged war between Russia and NATO, then "I feel that is an extremely meaningful task to do."