Here's a look at a few of the best and brightest gift ideas for gamers in the family.
Peripherals and gadgets
Let's start with the equipment that will certainly help bring the gaming experience to life.
Instinct Pro (Scuf Gaming, starting at $199.99) — Scuf continues to give a competitive edge to the professional and casual gaming community with its lineup of high-performance, wireless controllers.
Sure to make a gamer's gift list this year is the latest creation, the Instinct Pro, for Xbox One and Xbox Series X/S entertainment consoles.
Built to order by Scuf technicians, this lightweight Bluetooth-connected beauty looks nearly identical to Microsoft's latest version of its flagship controller with primary action buttons and directional pad and comes loaded with customizable options.
That translates into four paddles underneath of the controller (programmable to any of 16 functions); adjustable bumper triggers with instant-action setting (flip a side switch); side-trigger extenders; interchangeable thumbsticks (three short and one tall all wrapped in a softer rubber); interchangeable directional pad; and military-grade hexagonal textured rubberized grips.
By the way, those paddles offer an entirely new generation of design. Two primary paddles integrate into the grips, and a pair of adjacent paddles to each side, more flap-shaped, are slightly popping out of the base for intuitive middle-finger access.
Also updated is the onboard programming options. Use the profile button to enact and press both paddle and button. Three profiles for the four-paddle configurations are stored for easy swapping, depending on the game, with a color-coded LED on the controller front displaying the profile in use.
Other features include a 3.5 mm port for wired headsets, a mute button, a USB-C port for wired play (controller includes a 6-foot cable) and a port to connect other Microsoft devices i.e., mouse, keyboard.
Suffice it to report, the device makes for an ergonomically comfortable experience for any extended gaming session.
As far as the look, more than 40 faceplate designs range from Vixen (pop art Lichtenstein style) to Prosperity (black with red Chinese dragons) and Genesis (a celestial scape); four-action button kit; four bumpers; and four trigger colors.
A perfect example of too cool is the Void ($214.94). The controller offers a liquid metal-styled, purple-and-pink faceplate with red action and directional buttons and steel-grey top bumpers and triggers and black rubberized grips. It acts as a perfect visual complement for games such as Marvel's Guardians of the Galaxy.
My only issue is no included recharging option for the controller. Gamers will need a supply of AA batteries to keep it running or buy an official rechargeable Microsoft battery pack that conveniently fits.
Geared toward the serious amateur or professional gamer addicted to first-person shooter multiplayer action, this Cadillac of Xbox controllers provides the critical tech necessary for success.
Gift givers should also throw in the Instinct Player Pack ($34.99 with controller purchase), which comes with a hard case, Gamer Grip, 10-foot USB-C Cable and four extra thumbsticks.
G PRO X (Logitech, $199.99) — Gift givers looking to aurally complement a new owner's gaming computer or entertainment console won't disappoint with this pair of premium wireless over-the-ear headphones.
The combination headset with attached boom microphone offers connectivity through the 2.4 GHz frequency using the included USB-A dongle with more than a 50-foot range.
Gamers can expect more than 20 hours' worth of battery life on a single, three-hour charge using the included USB-C to USB-A cord.
Onboard controls on the left cup offer a volume wheel, microphone mute toggle, power switch as well as a port to attach the flexible metal arm of the foam-covered microphone and the already mentioned USB-C port for charging.
Despite the aluminum forks and steel-reinforced headband, the unit still weighs less than a pound and delivers supreme comfort with Memory Foam ear pads (or swapping the included pair of velour pads) and a padded top-of-the-head bracing for longer gaming sessions.
The speakers' neodymium magnet and hybrid mesh 50 mm drivers output an adequate bass and highs with the better-than-average sound for the all-important midrange for vocals.
However, compatibility can be an issue. The headset does not work with an Xbox nor offer any Bluetooth connectivity for other types of uses, making the G PRO X purely for the gamer.
Although it works as promised when tested on the PlayStation 4, the headset is clearly built for the PC gamer (with a Windows 7 or above operating system).
Specifically, a pair of software downloads from Logitech's free G HUB Gaming suite greatly enhance the headsets' sound functionality.
First, install the Blue Voice microphone technology and finely tune your voice when bellowing commands at fellow players with tweaks available for three-band equalization and adjustments for noise reduction, compression and even a limiter.
Next add the DTS Headphone:X 2.0 spatial audio technology package that offers the latest and greatest surround sound experience focused on an accurate and immersive soundscape, especially helpful for the player in the midst of a first-person frantic shooting battle.
The package also includes a soft neoprene pouch to store the headset.
Overall, the G PRO X does the job for a gamer, but one point that was befuddling was the curled wires hanging on either side of the headband and attaching to each earcup. It seems like an odd choice not protecting a key component to the headset. I can see overuse and abuse easily snapping one of the wires.
WD_Black (Western Digital, $89.99 to $269.99) — One of the key issues in a digital world where video gamers are playing more immersive and complex experiences is the storage space on their various home entertainment consoles.
Almost gone are the days of traditional discs, replaced by a code used to download massive amounts of data, often in the multi-gigabit range, to a console's limited hard drive space.
Helping to alleviate the stress of serious gamers having to delete from their console's drive and reload games from their ever-growing library, Western Digital offers a stand-alone, solid-state solution with generous amounts of space and connected directly to the gaming console.
Take for example its WD_Black, offering up to an extra 2 terabytes of storage using flash-based memory (i.e., no moving parts to wear out like drives of the past).
That translates into housing roughly an additional 50 PlayStation 4 or Xbox One games ready to play on a drive contained in a military-styled black, plastic block-shaped, 4-inch-long case.
After attaching the plug-and-play drive to the console via the included USB-C to USB-A cord, gamers can expect performance reaching optimized speeds of 900 megabytes per second, which means enjoying most titles launched from the drive with zero issues or lag.
The WD_Black also comes with a small black display stand to keep the unit in place.
The one caveat is that although the device is compatible with the latest PlayStation 5 and latest Xbox, it could only store and not run the newest games at this time.
For those more on the road gamers, look to Western Digital's durable My Passport SSD ($119,99 to $679.99) to even better protect their precious games and data on a wallet-sized, solid-state drive with up to 4 terabytes of storage. It has read speeds up to 1,050 megabit per second (Mbps) and write speeds of up to 1,000 Mbps and uses NVMe (non-volatile memory express) technology. The drive also features password-enabled hardware encryption and comes in silver, gray, blue, red, and gold colors.
Finally, Nintendo Switch players will appreciate the SanDisc's microSDXC card ($17.99 to $129.99) offering up to 512 gigabits per second of storage of games and with speeds up to 100 Mbps. The tiny, multicolored cards even have licensed icons displayed including the leaf from Animal Crossing, and Super Mario Brothers' Super Mushroom and Super Star.
GTW 270 (EPOS, $199) — For those looking for less weighty and bulky options when aurally immersed in a video game universe, these wireless earbuds deliver as promised with just a few caveats.
The pair of lightweight, compact black beauties securely fit in each ear to provide an acoustic seal as they deliver a clear and powerful sound experience with generous amounts of meaty bass, pointed mids and crisp highs for just under five hours with a single charge.
Gamers use the USB-C, aptX low-latency dongle to plug into immediate play with the Nintendo Switch and attach the dongle to an included USB-A extension cord to plug into a PC or PlayStation 4 or 5.
The GTW 270 works as expected and offers the perfect solution for a Switch session during long car rides or playing solo games in a dorm room where a lack of noise is appreciated.
As a hybrid device, the earbuds can also get paired via traditional Bluetooth to smartphones to enjoy music while on a jog or for normal calls with help from the onboard, noise-cancelling dual microphones. A single button allows for musical song track control and answering a call.
Most importantly, owners also get a magnetically clasped anodized black aluminum case to place the earbuds to protect and charge them.
Charge the case in under two hours via the included USB-C to USB-A cable that will then charge the earbuds in 1.5 hours. The case offers an additional three charges for the earbuds. A quick charge can offer roughly 60 minutes of additional use after 15 minutes in the case.
Other features include saving up to eight paired devices, IPX 5 water resistance, and when paired with a PC, gamers can also download the EPOS Gaming Suite to get a truer surround sound experience.
The package comes with a total of four sizes of silicone ear tips and a rubber dongle sleeve to connect to a key chain and those pair of USB cables. 
Although a pretty potent pair of earbuds, there are a few issues worth sharing.
Notably, although the earbuds have microphones, they do not work when using the dongle, so communicating during a multiplayer session is out; and, the bigger elephant in the room, there is no compatibility with the Xbox. Keep both in mind when buying for any rabid gamer.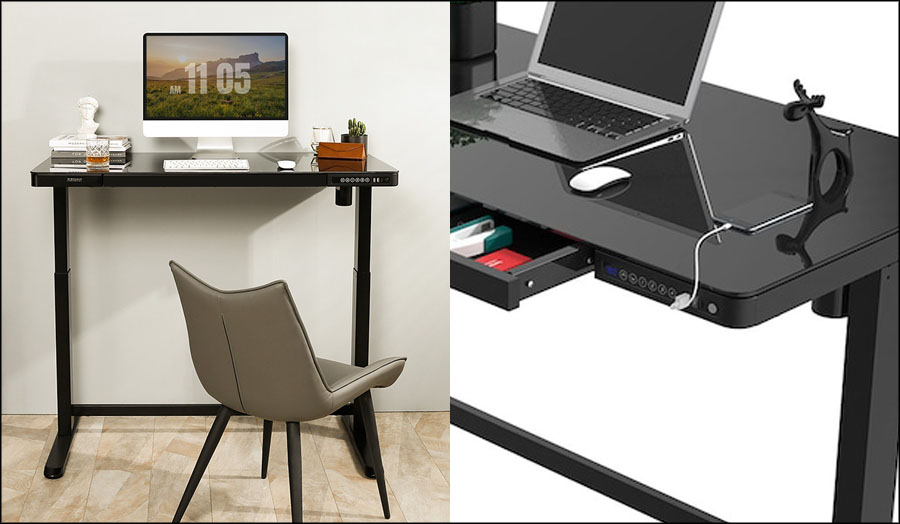 Comhar EG8B (FlexiSpot, $499.99) — Sitting at a desk for long periods of time will guarantee long-term health issues for any human on the planet. That certainly applies to gamers.
Here's an ergonomic gift idea to keep the virtual action going for both adults and kids, and the blood flowing.
This 48-long, 24-inch-wide stylish black desk with a tempered glass top offers a double-bar motorized tech to raise and lower its height from 28.3 inches to 47.6 inches.
An all-in-one control keypad area delivers the magic showing the height in an LED display with motion delivered via up and down arrow buttons. It even offers the ability to program a quartet of heights saved to four extra numbered buttons.
Equally useful and next to the keypad are three integrated USB ports (2 type A and 1 type C) to charge devices such as game controller and a mouse.
Also impressive is a pair of safety features that include a control panel lock and anti-collision detection. Lower the desk while forgetting about the accumulation of tech equipment underneath it and the furniture actually stops in its tracks from crushing anything in the way.
Expect a painless assembly process of less than 30 minutes with sinking 16 screws and attaching a few wires.
The Cohmar has a 110-pound weight capacity, lift speed at 1 inch per second includes a drawer and a stabilization bar, powder-coated steel tubing and leveling guides.
All told, that means gamers usually stuck in a back-breaking seated position, especially those using desktop gaming computers with a monitor have a new level of bipedal freedom while maintaining those endless sessions of role-playing adventures.
The Games
Now, let's add some gifting examples of traditional and immersive virtual experiences.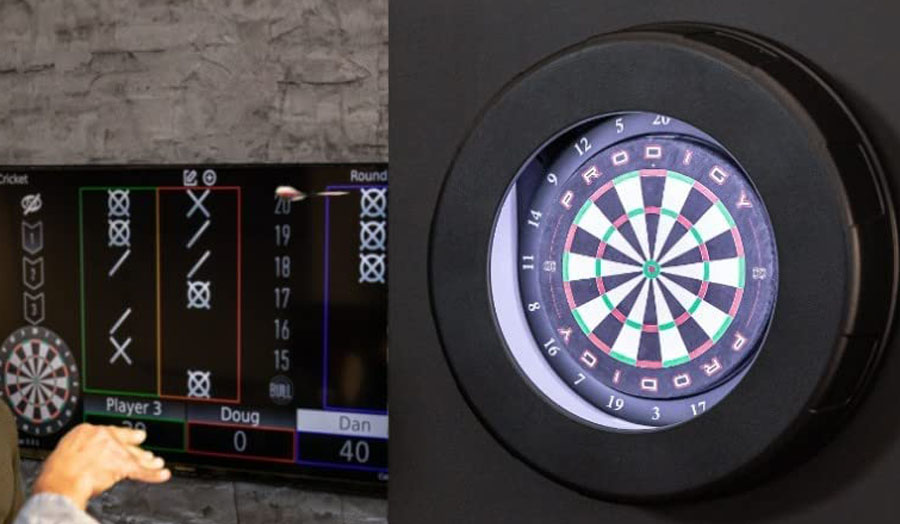 Prodigy (Escalade Sports, $999) — For those adults tired of kids monopolizing their video game consoles, here is an alternate idea that offers a traditional challenge with a welcomed digital twist.
Specifically, the tournament-sized Automatic Scoring Bristle Dartboard System aka Prodigy gives humans a chance to engage in a game that has been around since the late 1800s.
Before starting a competition, owners use the included bracket and screws to hang the 30-pound circular unit that measures a 33-inch diameter on a wall in a room clear of clutter and with at least 8 feet outward for a player to stand.
That hard plastic outer shell houses the 18-inch circular bristle board that is 1.5 inches thick with a razor-thin, staple-free metal web around the targets
After plugging in the Prodigy and standing 8 feet from the board, players can toss the steel-tipped darts at the areas that will trigger a score and get displayed on a multimedia device.
The tech magic contained in a compartment on the back of the Prodigy allows an owner to connect to a nearby television monitor via an HDMI port (with stereo outputs) along with a pair of USB ports for a keyboard and mouse and even a port for a direct Ethernet connection to handle scoring and play the game variations.
Gamers can also use the Prodigy app compatible with iPhone and Android operating systems via its internal Wi-Fi or use a home Wi-Fi network. That process could be a bit confusing so follow the company's YouTube channel videos
The software offers seven variations of dart challenges including Cricket (a player score points by hitting an open number for 15 through 20 and the bullseye); 501 (each player begins with 501 points and must reach zero to win); and Killer (aiming for other players selected numbers to knock them out of the contest) and allows for up to four players to participate.
A bright ring of LED lights attached to the interior of the outer shell, 360-degree lighting system clearly illuminates the numbers around the outer edge and the board.
The scoring platform also saves player profiles, game history, statistics and has a fairly easy way to update the firmware using one of the USB ports and a flash drive.
Of course, the elephant in the room is just how accurate is the scoring.
The company boasts that using biocular dart recognition technology with cameras and infrared lighting combined with state-of-the-art location algorithms, in theory, make Prodigy one of the most accurate smart dartboards ever created.
Looking at the reviews online, one will find that it averages in the 90% and above range. My testing of the product found it to be fairly accurate and above the 95 percentiles. If an incorrect hit is registered, a player has the option to edit the score or even unthrow a dart.
It's worth noting the system is smart enough to list a vision clarity status for its camera that will tell the owner if the board has a dust issue or has too much background clutter that could impact the scoring sensors.
You can even rotate the bristle board and resync it with the app to minimize wear and keep the scoring accurate.
New owners of this innovative and expensive system should also be aware that it does not come with the required steel-tipped darts. I can certainly understand since serious dart players, i.e., dartists, are pretty picky about their equipment.
Although the price is steep, the rewards of having an entertainment system that allows users to stand, compete and communicate make it a great idea for any holiday gathering and beyond.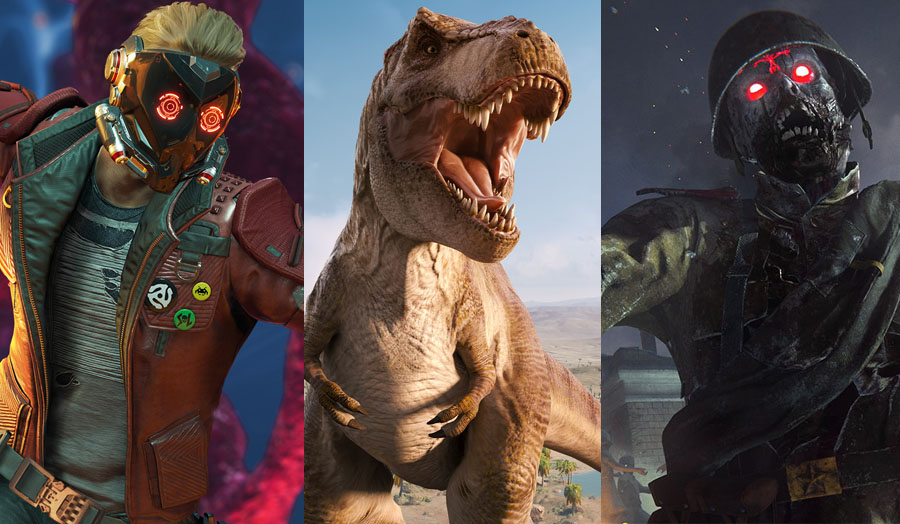 Call of Duty: Vanguard (Activision and Sledgehammer Games, rated M, reviewed with PS4, $59.99) — Another year brings another edition of the premier first-person shooter that now takes gamers back to an alternate reality in World War II for a selection of missions that the Inglourious Basterds would appreciate.
The once again too-short, "so what else is new," but always cinematic solo adventure focuses on the introduction of an international special forces team with the call sign Vanguard led by the Capt. Carver Butcher.
Heroes such as the stoic British paratrooper Sgt. Arthur Kingsley, hot-headed Australian demolitions expert Pvt. Lucas Riggs and Russian sharp-shooter Lt. Polina Petrova take part in pivotal campaigns of the war including the Battle of Midway, the Invasion of Stalingrad, Battle of El Alamein and Normandy Invasion.
The roughly eight hours of action split through eight missions lead to plenty of cinematic moments such as U.S. pilot Wade Jackson in a dogfight with Zeroes and divebombing a Japanese carrier; an epic battle atop a moving train; and a sobering night excursion of paratroopers dropping behind enemy line mixing in liberal amounts of graphic violence.
A dozen of those heroes and other associates also carry over to the always entertaining multiplayer mode, the heart of Vanguard and where it truly shines.
Virtual warriors within matches consisting of up to 48 players battle across 20 maps encompassing Eastern and Western fronts of Europe, the Pacific, and North Africa with arenas featuring deserts, a bombed-out Berlin and Japanese flower gardens.
Players can choose from six familiar multiplayer modes such as a free-for-all deathmatch and domination (teams collect points by capturing three flags). New this year is Patrol (a team captures and protects a moving zone before time runs out) and Champion Hill (up to eight teams of two- to three-player squads battle in a deathmatch-style action).
Another addition to the multiplayer experience is "combat pacing" where players can pick the number of warriors in a match and choose three styles of action including Tactical for a more calculated experience (teams of six versus six); Assault for a balanced experience (up to 28 players); or Blitz, which is perfect for players who want to run-and-gun in a chaotic game pace (up to 48 players).
Additionally, back again is the always anticipated Nazi Zombie mode called Der Anfang, or "the beginning."
A player and up to three friends become special forces operators and kill waves of way-too-realistic decomposed soldiers from the Third Reich, but it's a half-baked shadow of past glories.
Although, an intriguing premise about the pure evil Oberführer Wolfram Von List opening a dimensional gateway called the Dark Aeth to collect hellish artifacts and bring the dead back to life in the ruins of Stalingrad has potential, thanks to foreboding settings, extreme gore and, hopefully, future content releases.
Jurassic Park Evolution 2: Deluxe Edition (Frontier Developments, rated Teen, reviewed with Xbox One, $69.99) — The sequel to the popular three-dimensional park management challenge themed to the iconic "Jurassic Park" franchise returns for another chance for the innovative entrepreneur to virtually play god.
Within a campaign story mode picking up after the last movie "Fallen Kingdom," a solo player takes part in an original story with familiar key characters to the franchise.
Specifically, public relations wiz and crisis manager Cabot Finch returns to assist the player as he works with the familiar folks from the films Claire Dearing (voiced by Bryce Dallas Howard) and Dr. Ian Malcolm (Jeff Goldblum) as they spearhead the DFW (Department of Fish and Wildlife) to establish new dinosaur facilities across the United States.
The facility management is certainly stress-inducing and does not just involve the minutiae of building out areas and even rides but enticing the park visitors to come back.
That means carefully recruiting scientists to extract DNA from fossils to eventually bioengineer the creatures (with even veterinarians and rangers to take care of the species).
And, making sure the creatures have a healthy and safe habitat to keep them happy and keep park-goers from not becoming snacks.
New to the action is the Chaos Mode that gives managers a chance to relive and recreate key builds from the five movies as they micromanage the doomed parks, such as the initially created dream park by John Hammond to the mess with the T. rex in San Diego or the unstable site at Isla Sorna.
Players also can just develop their park from scratch in a sandbox (free-play) mode with unlimited funds and fewer responsibilities.
The game features more than 75 wildly realistic prehistoric species that include the familiar Velociraptor, Stegosaurus and the mighty Tyrannosaurus rex as well as less well-known species such as the 30-foot-long spined Amargasaurus, the flying Tropeognathus and the marine reptile Liopleurodon.
For as much of a time suck "Jurassic Park Evolution 2" can be with its ever-evolving, open-game play, parents should also appreciate the educational opportunities found not only in the resource and money-management challenges but a readily accessible species database that allows junior to learn plenty about these prehistoric dynamos.
The deluxe edition also includes three exclusive vehicle skins inspired by the Dinosaur Protection Group, six guest building amenity signs and five additional prehistoric species including the Megalosaurus.
Far Cry 6 (Ubisoft, rated M for Mature, reviewed with Xbox One, $59.99) — The latest chapter to the almost two-decade-old, open-world, third-person action franchise takes a player to the fictional Caribbean island of Yara and into a brewing civil war as freedom fighters attempt to topple the brutal regime of dictator El Presidente Antón Castillo ("Breaking Bad's" Giancarlo Esposito), a Bond villain to the core.
Controlling either a male or female version of the guerrilla warrior Dani, the player acts as a nearly unstoppable one-person army to almost single-handedly ignite a revolution.
The format is often exhilarating; notice the use of a variety of vehicles (from a zebra to a 1952 Kaumbat R-25 helicopter, wingsuit, a 1956 Beaumont Valentina with machine gun turrets and a tank nicknamed Karlito) to travel around a tropical paradise.
A generous amount of more than 100 missions have Dani attack military bases and checkpoints, assassinate Castillo's lieutenants, form alliances with other rebels, rescue hostages, find roosters for cockfights, fish, treasure hunt, and set off plenty of explosions and fires.
Customizable weaponry ranges from sniper rifles to a nail gun and flamethrower, and the rebel can even get help from local wildlife including an alligator and white panther to fight the bad guys.
New are special backpacks called supremos that offer intense firepower such as a missile battery or a flame-throwing jetpack.
Within the sprawling world of Far Cry 6, the exhilaration as well as the exhaustion comes in waves from the absolutely overwhelming amount of things to do to get through the intense drama lasting upwards of 60 hours. A mature player will not be disappointed.
Marvel's Guardians of the Galaxy (Square Enix and Eidos Montreal, rated: Teen, reviewed on PlayStation 4 and Xbox One, $59.99) — Marvel Comics' diverse team of scavenging mercenaries returns to video game realms with a third-person adventure mixing the origin story of its leader Star-Lord, aka space pirate Peter Quill, and a mission for the team surrounding a Soul Stone that can help them save or destroy the universe.
The famed team includes Gamora (the deadliest female assassin in the galaxy); Drax the Destroyer (a convicted serial murderer and war hero); Groot (a tree-like being that can expand and branch out on demand); and Rocket Raccoon (a feisty genetically engineered furry mammal with a love for explosives).
The player controls Star-Lord — wielding a visor, rocket boots and a pair of blasters that spew fire, wind, electricity and ice — and can call upon the other Guardians to deliver attacks while in battle or assistance when solving many of the environmental puzzles.
The game revels in entertaining chatter between the Guardians, fantastical boss battles, the introduction of lesser-known comic book characters (telepathic Soviet space dog Cosmo) and exploring some wondrous locations including the end of the galaxy also known as Knowhere.
"Guardians of the Galaxy" not only delivers a cinematic dive into a wondrous and rich comic book world but reinforces, through its roughly 20-hour-long interactive story, a focus on family and teamwork, making it certainly a great gift for the holiday season.
Aliens: Fireteam Elite (Cold Iron Studios, rated M for Mature, reviewed with PlayStation 4, $39.99) — A cooperative, third-person, survival-shooter game plunges up to three players into a horror show as they battle hordes of Xenomorphs within the famed sci-fi universe.
The year is 2202, and the story takes a Marine assault unit to the jungle planet on LV-895 in the outer colonies after responding to a mysterious distress call. Prepare for a never-ending firefight.
Players choose from five distinct Marine classes — Gunner, Demolisher, Technician, Doc and Recon — each with their own special abilities as they wield an arsenal of over two dozen customizable weapons to terminate the creeping enemy within a dozen missions set over four acts.
The Xenomorphs come in all shapes and sizes ranging from those terrifying face-huggers to acid spitters to an actual queen.
The story also adds other enemies to fight including multiple classes of Weyland-Yutani security androids and pathogen-infected settlers and creatures.
The often frantic action and exploration set within many a claustrophobic environment make for plenty of sweaty as well as jump-scare moments.
If the main story campaign is not enough pressure, the game adds five difficulty settings, daily and weekly evolving objectives, and a Horde mode (unlocked after completing the story), challenging a team to survive 10 waves of enemies.
Suffice it to report, Fireteam Elite beckons real players to work together to succeed and makes for an entertaining evening of extreme action.