4 hr 24 min ago
Former US skater Adam Rippon: "It's a joke" that Kamila Valieva is being allowed to compete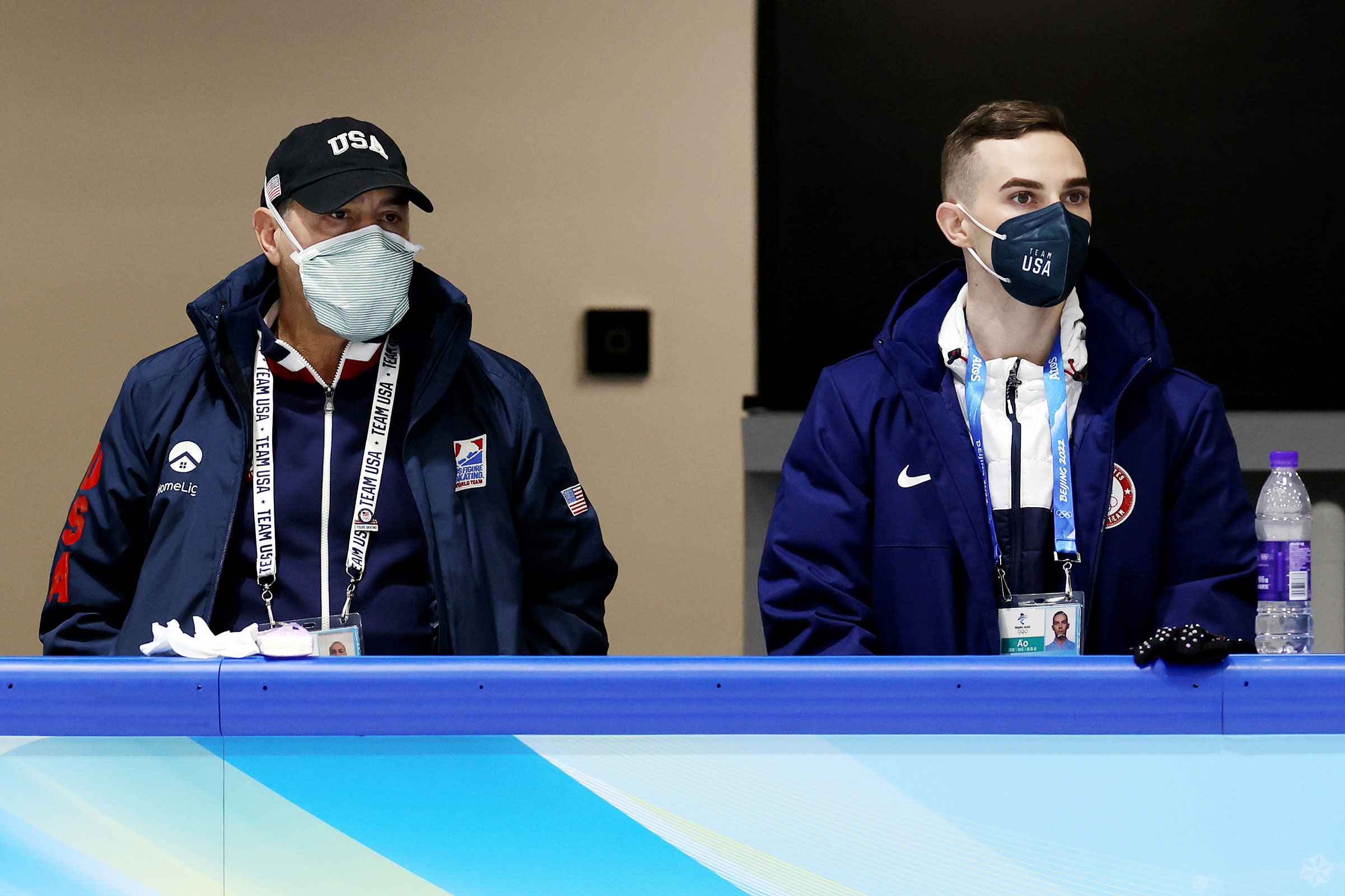 "It's a joke" that Russian figure skater Kamila Valieva is being allowed to compete in the Winter Olympics after failing a drug test, American former Olympic figure skater Adam Rippon told CNN.
Rippon also compared Valieva's situation to that of Team USA's Sha'Carri Richardson, who was banned from the 2020 Tokyo Summer Olympics after a positive marijuana test — calling it a "double standard."
Valieva, 15, is at the center of a drugs controversy after providing a positive test for a banned heart medication in December. Yesterday, the Court of Arbitration for Sport gave her the green light to compete anyway.
Rippon said the Russian Olympic Committee (ROC), which Valieva competes for, should be kicked out of the Olympics.
"The message is not getting through. And the punishment of just not being able to compete under their flag and then getting to change their anthem as like the only sort of consequence they need to face," Rippon said. "Honestly, it is laughable from the point of the athlete."
Rippon said the Russians have "repeatedly shown that they don't want to play by the rules."
Comparing it to his own experience, Rippon — who won bronze in the team event at Pyeongchang 2018 — said he was scared to even take a multivitamin when he was competing.
"Double standard": On Monday, Richardson questioned on Twitter why Valieva was allowed to continue competing, months after a positive test for cannabis derailed her own Olympic dreams.
Rippon said there was a "double standard" in how the two cases were handled.
"[Richardson's] a young black woman. We all wanted to cheer for her. Her personality is amazing. She's an incredible athlete. She tested positive for marijuana. Immediately you saw … the US anti-doping agencies said you can't compete. She was on TV the next day, apologizing, taking accountability," Rippon said.
In Valieva's case, the Russian doping agency first suspended her and then lifted the provisional ban after an appeal from the teenage skater.
"So it's two different agencies with two different protocols and two different integrity standards… The Court of Arbitration here in Beijing made — I think it is a joke. How does somebody with a positive test still get to compete in the Olympic Games.? The whole point is that it is a level playing field and everyone is competing clean," Rippon said. 
4 hr 51 min ago
South Korea fumes over cultural appropriation and "biased judgments" at Beijing 2022
From CNN's Gawon Bae in Seoul, South Korea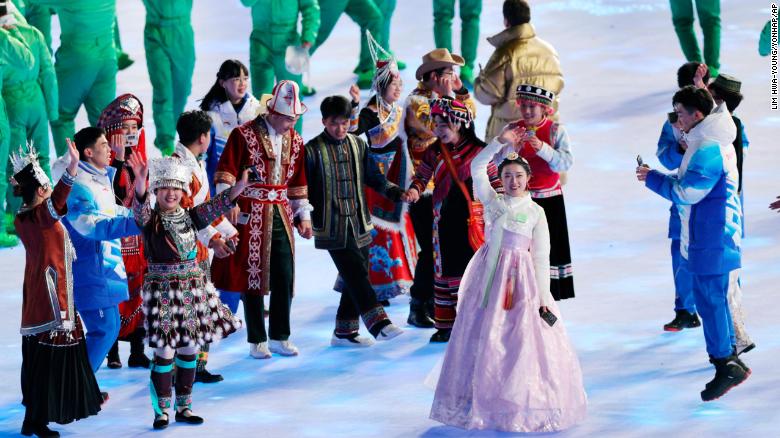 South Korea may have clinched its first gold medal at Beijing 2022 last week, but the success came amid tensions with China over alleged cultural appropriation and "biased judgments" during the Winter Olympics.
In recent years, relations between the two countries have been tense both politically and culturally and this year's Games have caused further flashpoints.
During the opening ceremony, a woman on stage appeared to be wearing a traditional Korean hanbok dress, which South Koreans have long been irked about, deeming China to be passing off South Korean culture as its own.
On the following day, South Korea's ruling Democratic Party released a statement criticizing China and demanding it stops "stealing" its "culture."
South Korean people also expressed their outrage online.
"I'm mad that they've introduced a person wearing hanbok on an international Olympic stage as a Chinese person! I'm mad that they are introducing Korean culture as Chinese to the world," one wrote on Twitter.
The Chinese Embassy in Seoul said on Wednesday that China is composed of 56 ethnic groups, and it is "not only their wish but also their right" to wear ethnic clothes during the Games.
"The Korean ethnic group in China and the North and South of the Korean Peninsula are of the same origin and share a common traditional culture, including clothing," the embassy said.
"The so-called 'cultural project' and 'cultural appropriation' are completely untenable."
Read the full story here.
5 hr 9 min ago
Skiers contend with -25 degrees Celsius conditions as freeski slopestyle finals get underway
From CNN's Nectar Gan in Zhangjiakou, China
It's a bitingly cold day at the Genting Snow Park in Zhangjiakou, where the women's freeski slopestyle finals are getting underway.
As the high-speed train pulls into the Taizicheng station at 7.10 a.m. local time, an attendant reminds passengers to keep warm.
"The outdoor temperature is -25 degrees Celsius (-13F)," she said.
Stepping outside the station, it is snowing lightly outside. The brown mountains are coated with a dusting of white, with the ground covered by a thick blanket of snow.
Participants are greeted by snow pandas, bunnies and snowmen built by volunteers and staff around various venues.
At the Genting Snow Park on top of the mountain, the sun has broken through the gray clouds and the wind hasn't picked up yet.
But it is bitterly cold.
Spectators don't seem to be put off by the frigid temperatures — they are huddled up, many wrapped in furry hats and waiting in excitement, waving pink flags featuring the beloved Olympic mascot, Bing Dwen Dwen.
The crowd here are waiting for one athlete: China's new Olympic superstar Eileen Gu, who will strive for her second gold medal.
5 hr 55 min ago
It's 9 a.m. in Beijing. Here's what's coming up on Day 11 of the 2022 Winter Olympics
All eyes will be on Russian figure skater Kamila Valieva on Tuesday as she takes to the ice after being cleared to compete despite a failed drugs test.
Here's what to watch today:
Russian star cleared to skate: Figure skater Kamila Valieva will compete in the women's single skating short program after being given the green light from the Court of Arbitration for Sport (CAS). The 15-year-old is favorite to win gold, but the International Olympic Committee (IOC) said Valieva won't feature in any medal ceremonies. The athlete plans to skate to "In Memoriam" by Kirill Richter and attempt a triple axel as well as a triple flip in her program.
Home favorite goes for gold: China's Eileen Gu is through to the women's freeski slopestyle final, but needed a strong finish to book her spot after a slow start to qualifying. "Quali's are way more nerve-wracking than finals," the Chinese star said after posting a 79.38 best score on Monday. The 18-year-old has already won big air gold at her home Games. 
Skater returns after barrage of abuse: California-born Chinese figure skater Zhu Yi, who faced a torrent of social media criticism after she fell on the ice while performing in the team competition, will compete in the women's single skating short program. After her fall, the hashtag "Zhu Yi has fallen" was viewed more than 200 million times within hours on social media platform Weibo, before apparently being censored.
Downhill double gold bid: Italy's Sofia Goggia is aiming to become only the second woman to win back-to-back Olympic golds in women's downhill after a hurried return from injury. Switzerland's Corrine Suter and Austrians Ramona Siebenhofer and Mirjam Puchner will also fancy their chances today, while American Mikaela Shiffrin will be aiming to make up for the disappointment of failing to finish in her favored events.
New Zealander fights for second gold: Zoi Sadowski-Synnott will jump for another Olympic medal in the big air final after executing her last leap to near-perfection in qualifying. The New Zealander, 20, cruised through as top qualifier. She won her first gold in slopestyle — New Zealand's first in 70 years of competing at the Winter Olympics. 
Men's big air battle: Canadian Max Parrot could win his second gold of the Games after topping the big air qualifying standings as his compatriot and defending champion, Sebastien Toutant, failed to advance after a crash. Chinese teen Su Yiming and decorated snowboarder Mark McMorris also reached the final. Home favorite Su earned the best single score in Monday's competition, much to the delight of the crowd. Japan's Takeru Otsuka, who delivered one of the most technical runs in his last attempt, finished second in qualifying, with Team USA's Red Gerard in third. 
Skier eyes double gold: Norway's Birk Ruud is looking to win his second Olympic gold medal at Beijing 2022 when the men's freeski slopestyle begins today. Ruud won the inaugural freeski big air and is aiming to become the first man to win the Olympic slopestyle/big air double.
6 hr 3 min ago
Russian Kamila Valieva cleared to skate, but reprieve could be short-lived
From CNN's Lizzy Yee and Ben Church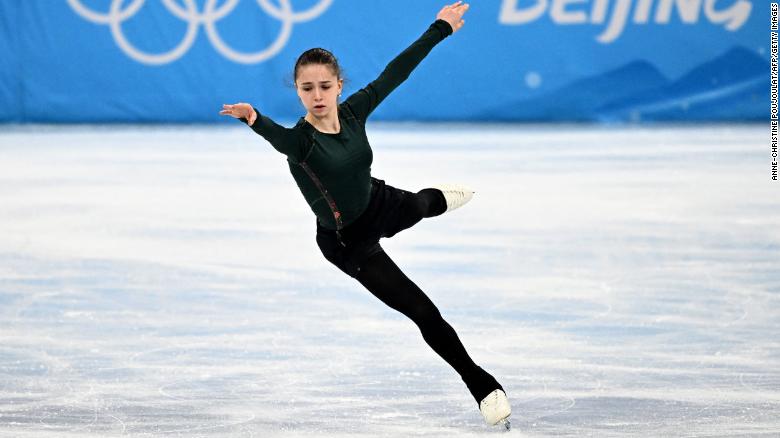 A drugs test controversy that has overshadowed Beijing 2022 is set to rumble on after the Winter Olympics finishes.
For now, teenage figure skater Kamila Valieva has won a temporary reprieve — the 15-year-old gets to compete in the women's single skating competition on Tuesday.
But, if she wins this week, there will be no gold medal ceremony or bouquet of flowers to hold and when she heads back to Russia, Valieva will enter a bureaucratic limbo as different sporting and doping organizations contest the implications of the skater's positive test for the banned heart drug trimetazidine, which is commonly used to treat people with angina.
On Monday, the Court of Arbitration for Sport (CAS) ruled that Valieva can compete for the remainder of this year's Winter Games, despite testing positive for a prohibited substance ahead of Beijing 2022.
The Valieva controversy has reignited doubts about the Olympic movement's handling of Russian athletes competing at successive Games, but also the oversight of the World Anti-Doping Agency (WADA) and its working relationship with the Russian Anti-Doping Agency (RUSADA).
The head of the US Anti-Doping Agency (USADA) Travis Tygart says Russia has "hijacked the competition" and "stolen the moment from clean athletes" for the "sixth consecutive Olympic Games" after CAS rejected appeals to reinstate a provisional ban on Valieva.
The International Olympic Committee (IOC), International Skating Union (ISU) and WADA had all called on CAS to reinstate a suspension Valieva was given by RUSADA over a doping violation concerning a test sample taken in December.
In a statement, CAS said it had decided Valieva should be allowed to compete due to "exceptional circumstances," including specific provisions linked to her status as a "protected person" under the WADA code, because she is a minor.
The CAS also noted Valieva did not test positive during the Winter Olympics. In making the decision the panel considered "fundamental principles of fairness, proportionality, irreparable harm," a statement said.
Read more: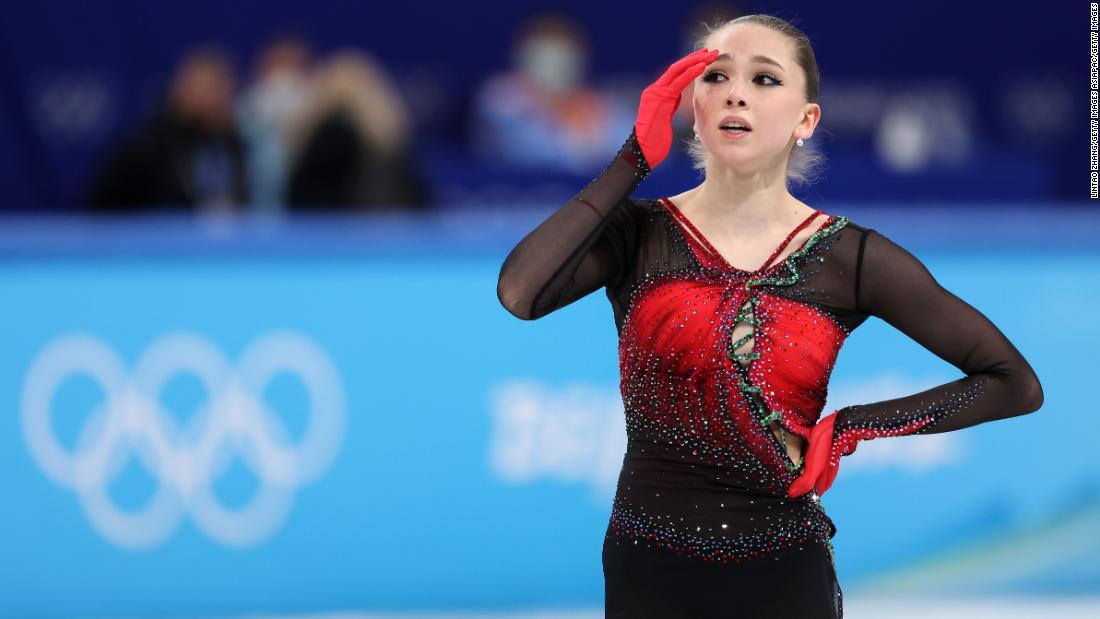 6 hr 25 min ago
Russian cleared to skate, Canada vs USA again and a golden monobob debut. Here's a recap of Day 10
Day 10 of the Winter Olympics served up drama, excitement and a mixed set of podium finishes.
Here's a recap:
? Golds across the board: Team USA's Kallie Humphries won the inaugral monobob event, France's Gabriella Papadakis and Guillaume Cizeron clinched the gold in world record fashion in the ice dance event, and China's Xu Mengtao took the top spot in the women's aerials. Meanwhile, Austria captured the gold in the men's team event.
⛸ Russian teen skater cleared to compete: Teen figure skater Kamila Valieva was cleared to continue participating in the Olympics despite testing positive for a banned substance in December. The Court of Arbitration for Sports (CAS) announced the decision early Monday morning, meaning the 15-year-old will compete in today's single skating short program.
? US vs. Canada for gold in women's ice hockey (again): Team USA skated past Finland 4-1 on Monday in women's ice hockey, setting up a gold medal game rematch with its Canadian rivals. Thursday's final between the two North American neighbors means that for the seventh consecutive Olympics, either Canada or the US will take home gold in women's ice hockey.
? Team USA dominates podium in Olympic monobob debut: In Monday's women's monobob — a brand new Olympic event for 2022 — Americans Kaillie Humphries and Elana Meyers Taylor took gold and silver respectively, as each woman becomes the first to earn bobsled medals in four straight Olympic games.
⛸ France takes gold in figure skating ice dance: The pair of Gabriella Papadakis and Guillaume Cizeron turned in a world record score of 226.98 in Monday's figure skating ice dance event. Russians Victoria Sinitsina and Nikita Katsalapov earned silver, while Team USA's Madison Hubbell and Zachary Donohue captured the bronze. Hubbell and Donohue narrowly edged out fellow Americans Madison Chock and Evan Bates, who were forced to settle for fourth.
6 hr 20 min ago
Winter sports powerhouse Norway leads the Beijing Olympics medal table
Heading into Day 11 of the Beijing Winter Olympics, here's where the teams rank in the medal standings:
Norway is leading with nine golds, five silvers and seven bronzes. The team has also won the most medals of any nation.
Germany is second with eight golds, five silvers and two bronzes.
Team USA is third with seven golds, six silvers and three bronzes.
Hosts China are in seventh position with five golds, three silvers and two bronzes.
6 hr 55 min ago
Canada-born Kaillie Humphries wins monobob gold for US after ​filing harassment complaint
From CNN's Ben Church
Canada-born Kaillie Humphries​, winner of the first-ever Olympic gold in the monobob, says she "never gave up" on herself.
It's the third Olympic gold medal for the 36-year-old but the first while representing the US — Humphries switched allegiances after ​filing a harassment complaint ​with Bobsleigh Canada Skeleton (BCS) in ​2018.
"A lot of things were going through my mind. It has been a journey to get here and it hasn't always been guaranteed," Humphries said after her victory.
"It hasn't always been easy. I have had a lot of fears and doubts. I have had highs and lows."
Humphries won her first gold medal in the two-woman bobsled event back in Vancouver 2010, before defending her title in Sochi 2014.
However, following a bronze medal finish in Pyeongchang in 2018, Humphries says she fell into a depression and alleged she was verbally and mentally harassed by ​her coach.
She subsequently filed a complaint with BCS and the governing body said it immediately forwarded the case to an independent investigator.
"Bobsleigh Canada Skeleton took Kaillie's allegations extremely seriously," BCS said in a statement in 2019.
"Investigating these allegations to their fullest was our number-one priority to ensure a safe training and competitive environment for everyone involved in our sport. The investigation found insufficient evidence of Kaillie's allegations."
Read more: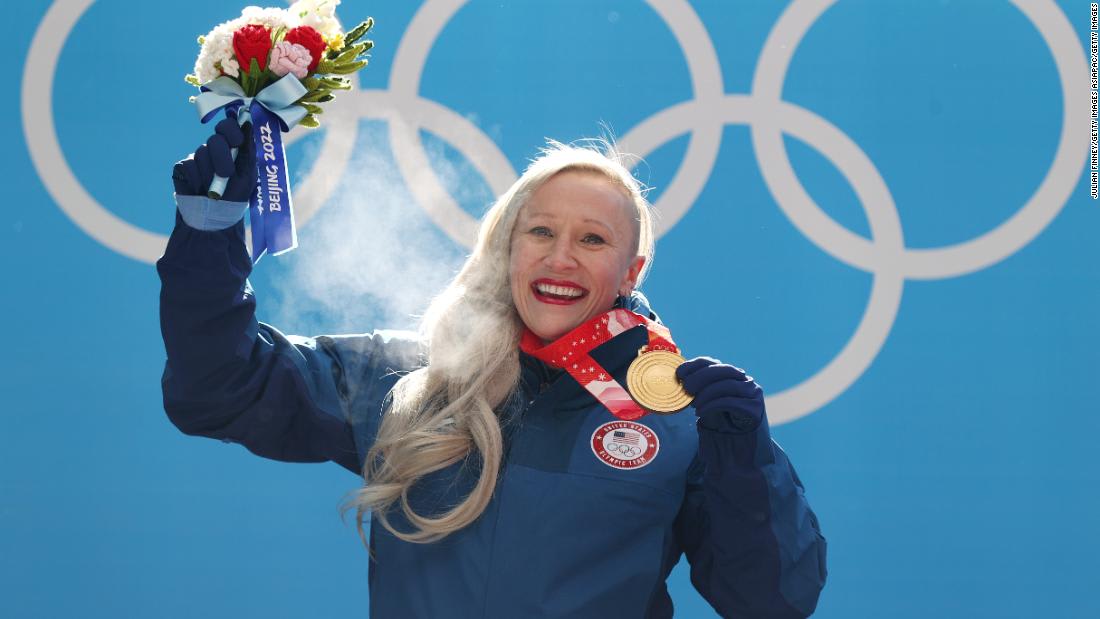 6 hr 43 min ago
Here's who won gold medals at the Beijing Winter Olympics on Monday
From CNN's Wayne Sterling
Monday saw a mixed set of podium finishes at the 2022 Beijing Winter Olympics. Take a look at the winners: