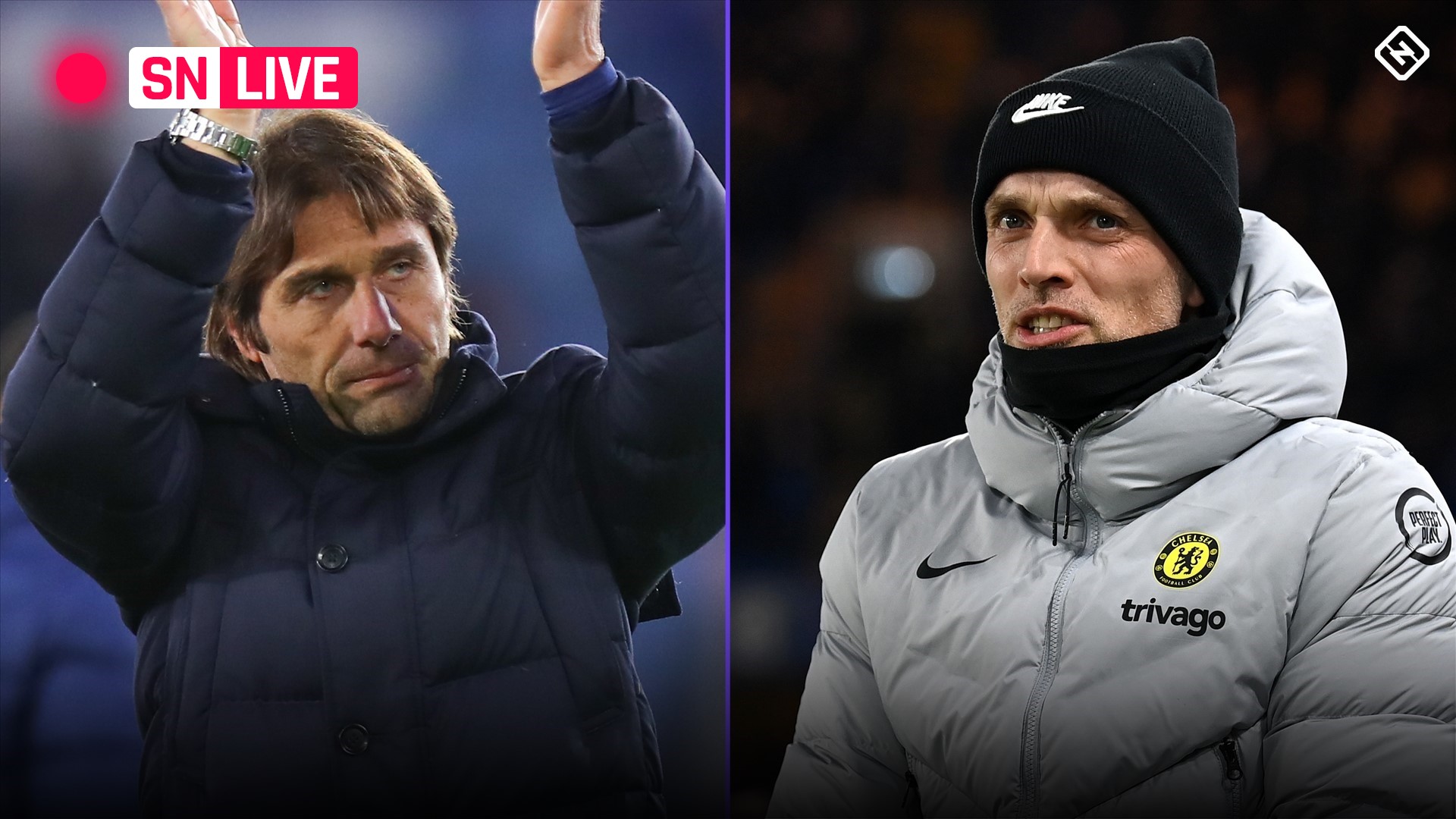 Chelsea humbled Tottenham across both legs of the EFL Cup semifinals just a few weeks ago, but the Blues' league form is seriously compromised, and Tottenham will feel they have a chance for revenge as the two sides meet at Stamford Bridge on Sunday.
The Blues (third place, 44 points) reached the EFL Cup final with a 3-0 aggregate victory, but in the Premier League they have won just one of their last seven matches and are winless in their last five. The dip in form, mainly due to a lobotomized attack, has seen Chelsea drop in the Premier League table, their title challenge all but snuffed out.
Tottenham (sixth place, 36 points), meanwhile, had plenty of their squad deficiencies exposed against Chelsea in the Cup competition, but they are unbeaten in Premier League play since Oct. 30, a run of nine matches without a loss. Their outlandish 3-2 victory over Leicester City last time out has provided a boost of confidence, and a signature win over Chelsea would see Spurs leap into the final Champions League place.
MORE: Premier League standings & table races
Spurs have not beaten Chelsea in Premier League play since November 2018. With the form favoring the visiting squad, now could be the time to flip the script.
This top-of-the-table clash will set the tone for both clubs heading into the upcoming January international break. U.S. fans will have particular interest in Christian Pulisic's performance as Captain America takes the field for his club one more time before flying home for a trio of critical USMNT games.
Sporting News will be following the match live and providing score updates, commentary and highlights as they happen.
Chelsea vs. Tottenham live score
Goals:
47th minute – CHE – Hakim Ziyech
55th minute – CHE – Thiago Silva
(All times Eastern)
87th minute: Kepa goes up to make a great stop on a header by Harry Kane, and then goes down in pain. He's ok, and is back up for the ensuing cross.
Callum Hudson-Odoi gets a hand from the Stamford Bridge faithful as he's replaced by Marcos Alonso. Saul comes on for a cramping Ziyech moments later.
79th minute: This game has a feeling of inevitability to it. No real response from Tottenham to any Chelsea moment all match. Spurs have a total of 4 shots for a combined 0.27 xG.
73rd minute: Chelsea makes a sub as Jorginho – on a yellow – comes off for N'Golo Kante. Spurs fans are throwing things at Antonio Rudiger and Cesar Azpilicueta during the break in action, which is less than ideal.
69th minute: Lukaku with an impressive turn to baffle Davinson Sanchez, but his hammered effort is parried by Lloris. Chelsea still feels the more likely team to score a third than Spurs is to find new life.
67th minute: Chelsea has no real urgency with its possession now with a two-goal lead. Cesar Azpilicueta goes down under an admittedly great form NFL tackle by Oliver Skipp in the penalty area. Huge roar from Stamford Bridge. No call, no VAR review. Injured Blues full-back Reece James is loving the performance.
58th minute: Finally a response from Spurs, and Kane delivers an excellent cross, but Sarr is there to produce a clearing header. Tottenham will need more of that to have a chance to produce a second-straight comeback.
55th minute: GOAL, Chelsea! Off a free-kick by Mason Mount, Thiago Silva directs a header on frame, and Hugo Lloris has no chance. Chelsea well in front, and it's deserved on the whole. Spurs has been poor defensively all game, and here, it's no different.
Hudson-Odoi, who's been much better since the half-hour mark, was the man to win the foul for the free-kick, given away this time by Eric Dier.Tanganga is now brought off, as Oliver Skipp and Lucas Moura both come on. Sessegnon also makes way.
54th minute: Chance, Chelsea! It's been all Blues since the restart, and Mount is the next to come close, unleashing a venemous left-footed effort that just sreams past the crossbar.
49th minute: Chance, Chelsea! It's Ziyech again, this time with a vicious driven effort, and Lloris needed to make a quality save to keep it out. The Moroccan is having a blinding performance today.
47th minute: GOAL! Chelsea! It's a STUNNER by Hakim Ziyech! Hudson-Odoi created it down the left, getting past Tanganga, and then he delivered a lateral pass to Ziyech at the top of the 18-yard-box cut to the right. He puts it on his left and produced a curler of the world-class variety. Hugo Lloris was rooted to the spot. "That goal should be hung in the Louvre" says Arlo White.
Tanganga was unable to stop Hudson-Odoi's run, and the halftime speculation of Conte taking him off probably was spot-on here. Spurs defender knew he couldn't foul the Blues midfielder, so he let him by. He has been the weak Spurs link today, it has to be said.
46th minute: We're back under way after a slight delay, after official has spotted a defect in the net of one of the goals. They've zip-tied it, and we're off! NBC commentary crew speculated Antonio Conte may withdraw Tanganga on a yellow based on his difficulty with discipline today, but as of now, no changes for either side.
HALF-TIME: Chelsea 0-0 Tottenham
It was a very open half, and a very chippy one as well. Three yellow cards given out, which seems fair.
Chelsea will be frustrated not to have found the back of the net on seven shots, including a few very good chances. The expected goals tally for Chelsea in that first half is just 0.6, but that doesn't include the Lukaku whiff, and on the whole doesn't really reflect the passage of play. The Blues should have a goal from that 45-minute stretch.
The Blues out-passed Tottenham 292-85, which seems accurate based on the run of play. Tottenham will need to change things up to be more dangerous and nullify the Chelsea attack, which feels as if a goal is coming if all remains the same out of the break.
45th minute: Silva heads over again off a Chelsea corner. Also noting a Jorginho yellow card from a few minutes ago.
43rd minute: Both managers are in the ears of the officiating crew. That's either a very good sign or very bad sign, nothing really in between.
40th minute: Tottenham goal disallowed! Harry Kane has the ball in the back of the net, but it's not going to count, as refeere Paul Tierney whistles Kane for pushing Thiago Silva in the back as he goes to collect the cross. It's not a terribly egregious push, but Silva goes sliding on his stomach and the referee has given it. VAR has a look, but it's a judgement call and there won't be any involvement from the video review.
Bergwijn is down from contact in the buildup, which is a concern. He's up after treatment and will continue.
39th minute: Tottenham has put together a few good counter-attacks, mostly through Bergwijn, but Spurs have not been able to get Harry Kane involved at all. The link-up play with Kane has been fully neutralized by Chelsea's defense and the tactical switch by Conte.
37th minute: Tanganga booked for hauling down Hudson-Odoi. For all the Chelsea players looking solid bringing the ball forward, Hudson-Odoi had not been one of them, but he has still provided a few moments, and gets a Spurs defender into the referee's naughty list.
32nd minute: Chance, Chelsea! Oh, Lukaku's whiffed it. The Belgian got a pacey feed from Mount right on the edge of the six-yard box, but he poorly mistimes his swing and comes up with nothing but air. The first row of fans will feel the breeze from his leg whip. After a great start to his Chelsea return, Lukaku has contributed little to this Chelsea attack of late, and this game is shaping up to be another empty harvest.
30th minute: On the half-hour mark, Chelsea's early pressure has waned, and the Blues will feel wasteful for not having capitalized. Chelsea still has space to exploit, however, and Pierre-Emile Hojbjerg gets an earful from Antonio Conte about how to prevent Chelsea feeding wingers into space. The Blues have been most dangerous building out wide, mostly on the right with Ziyech and Mount.
Sarr looks to be moving ok after his earlier ankle problem.
24th minute: Steven Bergwijn breaks well and Thiago Silva hacks him down, earning a yellow card. An early caution for a center-back is always something to keep an eye on. Bergwijn has been bright for Tottenham so far. Conte will be pleased at that choice.
21st minute: Chelsea pushing again, and Mount's cross is sent out for a corner by Tanganga. Corner is dealt with but not cleared, and Chelsea maintains possession. Tottenham is really pinned back at the moment, the 4-4-2 isn't quite working for Spurs at the moment.
19th minute: We have a VAR check here for a possible red card on Matt Doherty for stamping on Malang Sarr's ankle, but there's definitely nothing in it. Sarr limps off, Chelsea has struggled mightily for full-back health.
14th minute: Chance, Tottenham! You'd expect Harry Kane to do better from there, but it was Harry Winks instead, and it's clear by the shot. It's Tottenham's first real opportunity moving forward, carried through the Winks to the top of the box. He had both corners to pick out, but sends a weak, low effort that's easy for Kepa to handle. This game has started very openly.
12th minute: Lloris is forced into a save from a long shot by Ziyech which dipped hard. It was well covered by Lloris, not terribly nervy, but he had to parry it to be safe.
9th minute: The Blues continue to push hard for the opener, and this time a free-kick is headed over by Thiago Silva. They've had three decent chances to Tottenham's none. Spurs need a foothold soon to ease the pressure.
4th minute: Another opportunity for the Blues, Ziyech this time sends in a great ball, but Hudson-Odoi can't get his head to it at the far post.
2nd minute: Chance, Chelsea! A very big opportunity for Chelsea on their first spell of possession, as Mason Mount gets free on the right and delivers a seed to Romelu Lukaku, but the big Belgian can't get his body control right to whip a volley on frame, sending it skyward. A very high degree of difficulty there, but a big chance missed, as Lukaku had sprung free in front of net. He probably had time to settle and didn't need to lash wildly at the cross first-time.
1st minute: We're under way! Tottenham is playing with a back four, which has everyone baffled. Sanchez and Dier at center-backs, and Tanganga is at full-back.
Currently two of the country's three keepers, Moyadh Ousseini and Ali Ahamada, have tested positive for Covid-19 and will miss Monday's match, while first-choice Salim Ben Boina is out injured. In total, 12 of their squad have been ruled out through Covid, as has coach Amir Abdou.
11:15 a.m.: Antonio Conte is feeling a bump in form for his squad. It's not where he wants it, sure, but this is a chance to get revenge and make a statement.
10:33 a.m.: Lineups are in. Is it a 4-3-3 with Malang Sarr at full-back? Huh. It's surprising to me that Tuchel continues to have faith in Hakim Ziyech, who has been a regular in the attack as it sputters over the past few weeks, while Christian Pulisic and Kai Havertz remain stuck on the bench.
For Tottenham, Bergwijn indeed is rewarded for his heroics last time out with a start over Lucas Moura, while Japhet Tanganga comes in at the back.
9:54 a.m.: Dele Alli was left out of Tottenham's squad for the match, and many have taken it as a sign from Conte about his desire to see Alli sold. Reports are nothing significant has happened yet, so speculation is it could be left until close to the transfer window deadline.
9:30 a.m.: Antonio Conte is hoping to succeed where other former Chelsea managers have failed.
9:30 a.m.: Tottenham's iconic London rivalry with Arsenal often leaves this match forgotten, but it's a heated London derby that has been somewhat one-sided of late.
Chelsea vs. Tottenham lineups
Chelsea's depleted squad is slowly healing. Reece James is back in training, but not expected to be fully fit for an appearance in this match, although Trevoh Chalobah is fit enough to see the
There are still absences that Thomas Tuchel must work around, however. Ben Chilwell's long-term absence with a torn ACL remains a key loss. Andreas Christensen continues his recovery from COVID-19, while Edouard Mendy remains on AFCON duty.
There are also lots of squad decisions to make. Tuchel has been unable to find a recipe for success in front of the net over the past few months, mixing and matching to little effect. Part of the problem is the width, with the losses of James and Chilwell causing issues at wing back.
He has occasionally switched to a 4-3-3, and it's unclear if that is the plan today (it seems so), but so far that has not sparked improvement. Malang Sarr comes in, possibly at full-back. Up front, Romelu Lukaku has been ineffective over the winless run, but continues in the side, as does the equally ineffective Hakim Ziyech, with Christian Pulisic, Kai Havertz, and Timo Werner still stuck on the bench. It seems Tuchel values consistency over form at this point.
Chelsea starting lineup (4-3-3): Kepa (GK) — Azpilicueta, Rudiger, Silva, Sarr – Jorginho, Kovacic, Hudson-Odoi – Mount, Ziyech, Lukaku.
Chelsea subs (9): Bettinelli (GK), Chalobah, Alonso, Kante, Barkley, Saul, Havertz, Pulisic, Werner.
Tottenham will receive a huge boost as Eric Dier returns from a three-match absence caused by illness, although neither Heung-Min Son and Christian Romero will return until after the international break.
Antonio Conte did mention that Tottenham is working around a few "fresh injuries" for this match, but did not specify who is afflicted, leaving the starting lineup very much in question. Conte also said Emerson played the last match against Leicester City with an injury, and his availability for this game will therefore be in question.
MORE: USMNT roster for January international break
Conte indeed rewards last match's hero, Steven Bergwijn, with a spot in the starting lineup after confirming renewed confidence in the Dutchman, with Lucas Moura on the bench. The Harry Winks–Oliver Skipp midfield platoon is a total coin flip in every match, and while last time out both saw the field from the opening whistle, it's Winks today who gets the nod. Sergio Reguilon is rested for today, with Matt Doherty getting a big chance in a big spot.
Tottenham starting lineup (3-4-3): Lloris (GK) — Tanganga, Sanchez, Dier – Doherty, Winks, Højbjerg, Davies, Sessegnon – Bergwijn, Kane.
Tottenham subs (9): Gollini (GK), Rodon, Reguilon, Emerson, White, Skipp, Gil, Moura, Scarlett.
How to watch Chelsea vs. Tottenham
Date: Sunday, Jan. 23
Time: 11:30 a.m. ET
TV channel: — None
Streaming: Peacock (subscription required)
The Chelsea vs. Tottenham match is exclusively avaliable on NBC streaming platform Peacock.
Chelsea vs. Tottenham betting lines, picks & prediction
Pick: Tottenham or draw (Double Chance) & over 2.5 goals (+300)
Prediction: Chelsea 1-2 Tottenham
Moneyline: Chelsea -135 / Draw +280 / Tottenham +370
Spread: Chelsea -0.5 (-130) / Tottenham +0.5 (-115)
O/U 2.5 total goals: Over -110 / Under -110
Both teams to score: Yes -120 / No +105