Baby Doge Coin (CCC:BABYDOGE-USD) fans everywhere are surely barking with glee today. The official @bitgetglobal Twitter (NYSE:TWTR) account announced today that the BABYDOGE crypto will be listed on the Bitget crypto exchange.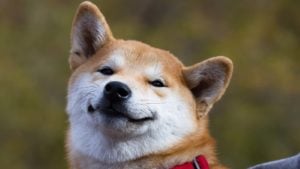 Source: Wollertz / Shutterstock
What do you need to know about the latest pupcoin listing lifting the spirits of Baby Doge investors?
New listings are always good news for fans of any crypto, although the reaction to the Bitget listing has been muted. After a modest jump earlier in the day on the news, the coin has steadied close to even. Currently, Baby Doge is actually down a bit more than 1% at the time of writing.
We hear you #BabyDogeArmy ?

We are excited to announce that we will be listing @babydogecoin. Follow @bitgetglobal and let's go to the moon together ?

Deposit #BABYDOGE to Share 50,000 #BGB Giveaway

For more details: https://t.co/GAqNlXgWJV pic.twitter.com/SgN51ZMKtY

— Bitget (@bitgetglobal) January 27, 2022
Still, a Bitget listing is no small feat. Established in 2018, Bitget is one of the fastest-growing crypto trading platforms. Currently, Bitget ranks as the fourth-largest crypto derivatives exchange by volume, behind CoinTiger, OKX and Binance (CCC:BNB-USD). Any listing on a major exchange should merit a tidy price increase. But given the recent crypto crash and growing uncertainty over upcoming market conditions, BABYDOGE's relative stagnation isn't exactly a surprise.
So, what else is going on with Baby Doge lately?
BABYDOGE Crypto Sees Mixed Reaction From Bitget Listing
While the main BABYDOGE token saw a slight decrease from the Bitget reaction, a secondary Baby Doge token is up more than 15% today. BabyDoge ETH, which is a separate community and token than the main currency, has apparently hogged all the limelight today. What's the difference between them?
Well, BabyDoge ETH is basically a clone of the original token, that only trades on Uniswap. As such, it isn't really the main benefactor of Baby Doge's recent Bitget listing. Though investors couldn't care less. In addition to its price jump, BabyDoge ETH's trading volume is up 130% over the past 24 hours.
To sum it up: BabyDoge ETH is not being listed on Bitget, the original Baby Doge is, and that's a distinction worth knowing.
On the date of publication, Shrey Dua did not hold (either directly or indirectly) any positions in the securities mentioned in this article. The opinions expressed in this article are those of the writer, subject to the InvestorPlace.com Publishing Guidelines.