Queensland reports 7816 new cases of COVID-19, zero deaths
By

Broede Carmody
Queensland's daily coronavirus numbers are in.
The state has reported 7816 official cases of COVID-19 and no additional deaths. Today's tally is up on yesterday's 7738 cases.
There are 299 people in Queensland hospitals with coronavirus. Of those, 14 are in intensive care.
Today's hospitalisations are up on yesterday's 284 patients.
Labor forming government would be 'the most fitting tribute to Kimberley's life': senator
By

Angus Thompson
Labor senator Kristina Keneally says anyone using Kimberley Kitching's death for political gain will "find no friend in me".
Senator Keneally, one of three Labor politicians to recently deny bullying their former colleague, said in a tribute in Parliament this morning that "much had been said and written" about the stress senator Kitching experienced during preselections.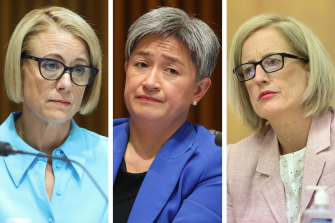 "Some of what has been suggested, I have strongly responded to on the record outside this place," Senator Keneally said, referring to a joint statement she made with Penny Wong and Katy Gallagher about mistreatment claims earlier this month.
"Today in this place I will treat her life and legacy, as I did prior to her tragic death, with deep respect for her intelligence and her capacity."
Loading
She said senator Kitching was "not manipulated by others in her career, her beliefs or her passions".
"Those who use … the grief caused by her death [for] purposes other than honouring her life and her work will find no friend in me."
Senator Keneally also urged her colleagues to channel their grief into winning the upcoming election, repeating the sentiments of former Labor leader Bill Shorten at senator Kitching's funeral.
"Securing a Labor government is the most fitting tribute to Kimberly's life," Senator Keneally said.
Victorian Premier tests positive to COVID-19
By

Rachel Eddie
Victorian Premier Daniel Andrews has come down with COVID-19, and tested positive on a rapid antigen test.
In a statement issued this morning, Mr Andrews said he had mild symptoms.
"After developing mild symptoms this morning including a sore throat and mild temperature, I undertook a rapid antigen test.
"I have tested positive to COVID-19 and will now isolate for the next seven days.
"So far, [my wife] Cath and the kids have tested negative. As they are close contacts, they will also isolate for the next seven days."
Deputy Premier James Merlino will be Victoria's acting premier until Monday.
Wong won't respond to 'anger with anger' over Kitching's death
By

Angus Thompson
Labor senator Penny Wong says she will not "return anger with anger" over the death of her former colleague Kimberly Kitching.
The comments were made earlier this morning as part of a string of parliamentary tributes to the late Victorian senator.
Senator Wong, the opposition's leader in the upper house, acknowledged the discussion surrounding Labor's internal politics – in which she had been mentioned – following claims senator Kitching had been bullied and shunned in the lead-up to her death from a heart attack.
"Much has been said and written in the days since senator Kitching's passing," Senator Wong said.
"Many are hurting and many are grieving. I understand that grief and loss can be so profound that it can provoke anger and blame."
Senator Wong, as well as senators Kristina Keneally and Katy Gallagher, issued a joint statement earlier this month denying they had bullied senator Kitching after claims were aired in the media.
"I've made my views very clear outside this place about some of that misplaced anger and blame. I will not return anger with anger, or blame with blame," Senator Wong said.
Loading
"Senator Kimberly Kitching deserves her life and legacy to be celebrated and remembered."
Senator Kitching's husband, Andrew Landeryou, was sitting in the Senate chamber as parliamentarians took turns to pay tribute.
His presence was acknowledged by Finance Minister Simon Birmingham, who is the second senator to speak about his former colleague's life and achievements.
He said it was "never easy to see those you love judged", referring to senator Kitching's political career.
"Your angst at this reality in parts of Kimberly's life is evident, but you should take heart in all that she achieved."
Lower house Labor MPs in the Senate this morning include deputy leader Richard Marles, Mark Dreyfus, Tanya Plibersek and Madeleine King, among others.
'Whole range of reasons' why people might not be getting their booster: COVID commander
By

Broede Carmody
Australia's COVID-19 taskforce commander, Lieutenant-General John Frewen, fronted the Seven Network earlier this morning.
He was asked why one in three eligible Australians haven't yet had their booster shot.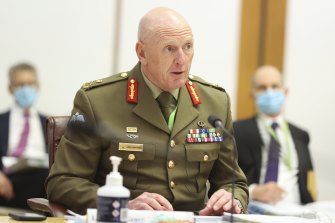 Here's what the Lieutenant-General had to say:
Last week we ticked over 95 per cent of the nation [who have had] their first two doses, which is a remarkable achievement.

Sixty-seven per cent have had the third dose. And I think there's a whole range of reasons why I think people are not coming forward as quickly as they did for the first two doses.

Some people have had COVID. Some people are just a bit over the whole COVID thing. What we know, from the medical advice, is the booster will reduce the severity of COVID if you get it and it will help avoid the effects of long COVID. So it's really important. It's never been easier to get the vaccines [than] now.
NZ's PM weighs in on China's draft security agreement
New Zealand's Prime Minister Jacinda Ardern has weighed in on China's draft security agreement with the Solomons, describing it as "gravely concerning".
In an interview with Radio New Zealand, the PM said: "We see such acts as the potential militarisation of the region and also see very little reason in terms of the Pacific security for such a need and such a presence."
Ardern said New Zealand had been expressing concerns about China to the Solomon Islands since "leadership level" talks late last year.
"So we do see this as gravely concerning."
Ardern rejected criticism by former foreign minister Winston Peters that New Zealand's isolation during the pandemic had meant they had "backed off" from working on security in the Pacific.
"There are a lot of excuses that will be given, like the advent of COVID and economic circumstances," Mr Peters told Radio New Zealand.
"But the reality is that … we should have accelerated [relations], not backed off."
NZ's Foreign Minister Nanaia Mahuta will travel to Fiji today – her first trip in the Indo-Pacific region as minister, aside from Australia.
Star casino's CEO resigns
By

Colin Kruger
The public hearing into whether Crown's casino rival Star Entertainment Group should retain its casino licence has claimed its first scalp with the company's chief executive Matt Bekier resigning with immediate effect.
The Star says his decision "follows issues raised in the public hearings in connection with the review" which found evidence of widespread avoidance of money laundering laws.
"While the review remains ongoing, Mr Bekier informed the board that as managing director and CEO he is accountable for the effectiveness and adequacy of the company's processes, people and culture."
The statement from the casino operator says his final departure date is yet to be determined.
The Star risks being found unsuitable to retain its Sydney casino licence. Similar issues at Crown led to the departure of its senior management and most of its board.
You can follow all the latest business news via our dedicated markets blog.
Fuel excise will be temporarily cut by 10 to 20 cents
By

Broede Carmody
Returning to the 2022 budget, and chief political correspondent David Crowe has confirmed that the federal government's fuel excise will be cut by 10 to 20 cents.
However, the measure will be temporary (as is the case in countries such as New Zealand). This is because the petrol and diesel tax generates significant income and the government is hoping to balance cost-of-living pressures with the need to repair the budget in the wake of the coronavirus pandemic.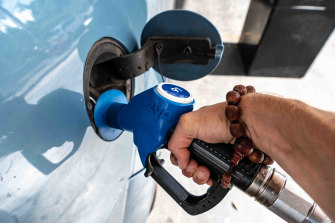 The fuel excise is currently worth 44 cents per litre of petrol. Earlier this morning, Labor frontbencher Jim Chalmers indicated that his party is unlikely to oppose a cut to the petrol tax.
'Predictions aren't good': Lismore mayor braces for more rain
By

Angus Dalton
Staying with NSW for a moment, and Lismore mayor Steve Krieg has warned Northern Rivers residents that additional flooding is likely as more rain heads for the already saturated region.
"The sad thing is that we've got some businesses that have opened this morning after four weeks of really deep cleaning," Cr Krieg told ABC News Breakfast.
Loading
"We've got people that have moved back into their homes after that month-long cleaning process. And the fear of packing it all up again is very real at the moment."
Cr Krieg is among the estimated 2000-4000 people still without a home after the floods rendered 3600 residences in NSW's Northern Rivers region uninhabitable.
"It's the last thing we need at the moment, these rain bombs that are coming down," he said.
"Hopefully they'll miss our catchment areas and we'll stay safe, but predictions aren't good at the moment."
NSW records 16,199 new cases of COVID-19, three deaths
By

Broede Carmody
NSW's daily coronavirus numbers are also in.
The state has recorded 16,199 new cases of COVID-19 and three deaths. Today's tally is down on yesterday's 17,450 cases.
There are currently 1270 people in NSW hospitals with COVID-19. Of those, 55 are in intensive care.
Today's total hospitalisations are up on yesterday's 1171 patients.