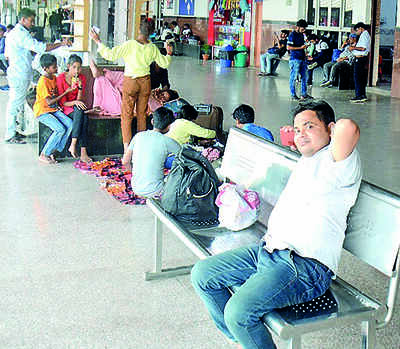 Patna: The railways has taken various steps to provide comfort to the passengers at the Patna Junction amid the sultry weather. At present, Patna Junction is witnessing a footfall of about three to four lakh passengers daily while 280 passenger trains are passing through the station everyday.
According to the ECR's chief public relations officer (CPRO) Birendra Kumar, Patna Junction has nine waiting halls (five AC and four non AC). Two separate waiting halls are for women and two others for both men and women. "We have ensured proper functioning of AC machines and other electronic gadgets in these waiting halls," Kumar said.
Though Patna Junction has more than 300 fans installed on its platforms from 1 to 10, railways has fixed more fans near each pillar of the platforms. "A team of railway maintenance staff have been deputed at the station to check the functioning of AC machines, coolers and fans and repair them on priority basis," the CPRO said, adding that more fans have been installed in the main concourse area of the station, enquiry counters, ticket booking counters and other common places.
The railways has also made water chiller plants functional at each platform to cater to the needs of passengers. Besides, the railways has taken extra care to maintain services of escalators at the station for the ease of senior citizens and women passengers. "Work on installation of four lifts at the Patna Junction will also start soon," he said.
Meanwhile, railways has sanctioned a temporary stoppage of the Bhagalpur-New Delhi Vikramshila express (12367/12368) at Buxar station for two minutes on both UP and Down directions from April 14 onwards.

FOLLOW US ON SOCIAL MEDIA